I know I've posted these on my blog before, but since they are such delicious recipes, I wanted to post them again.

I have never been a fan of canned jellied cranberry.
Anything that makes a slurpy suction sound as it leaves its tin homestead is not going anywhere near my piehole. Sorry.

So here's a fabulous recipe for fresh and delicious cranberry sauce.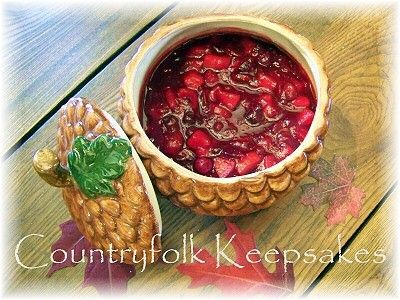 CHUNKY APPLE-CRANBERRY SAUCE

1 C - Apple juice or apple cider
1/2 C - Sugar
1/3 C - Maple Syrup
3 ~ Medium cooking apples (like Jonathan) peeled, cored and chopped into 1/2 inch chunks.
1 - 12 oz pkg fresh cranberries
1/2 tsp - Apple pie spice
1/4 tsp - Vanilla

In large saucepan combine apple juice, sugar and syrup. Bring to a boil. Add apples; cook, covered over medium heat for 5 minutes. Stir in cranberries and pie spice. Cook uncovered for 10 minutes or until apples are soft and cranberries have popped, stirring occasionally.
Remove from heat. Stir in vanilla. Cool completely at room temp. Cover and chill for at least three hours or up to a week before serving.


Makes almost 4 cups and your home will smell heavenly!!

This next recipe is for a delicious cake-like cookie. But be warned... You can't eat just one.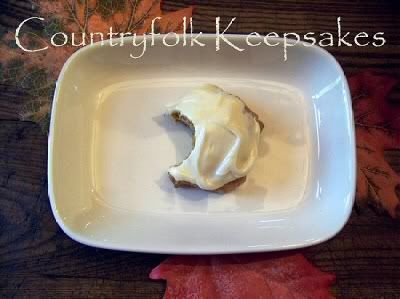 ICED PUMPKIN COOKIES

Here's what you'll need:

2 1/2 C - all-purpose flour
1 tsp - baking powder
1 tsp - baking soda
2 tsp - ground cinnamon
1/2 tsp - ground nutmeg
1/2 tsp - ground cloves
1/2 tsp - salt
1/2 C - butter, softened
1 1/2 C - white sugar
1 C - canned pumpkin puree
1 egg
1 tsp - vanilla extract


Glaze
2 C - confectioners' sugar
3 Tbs - milk
1 Tbs - melted butter
1 tsp - vanilla extract


Preheat oven to 350 degrees F (175 degrees C). Combine flour, baking powder, baking soda, cinnamon, nutmeg, ground cloves, and salt; set aside.
In a medium bowl, cream together the 1/2 cup of butter and white sugar. Add pumpkin, egg, and 1 teaspoon vanilla to butter mixture, and beat until creamy. Mix in dry ingredients. Drop on cookie sheet by tablespoonfuls; flatten slightly.
Bake for 15 to 20 minutes in the preheated oven. Cool cookies, then drizzle glaze with fork.
To Make Glaze: Combine confectioners' sugar, milk, 1 tablespoon melted butter, and 1 teaspoon vanilla. Add milk as needed, to achieve drizzling consistency.



Note:
I whipped up some cream cheese frosting instead of the glaze.

4 oz - softened cream cheese
1/4 C - softened butter
1/2 tsp - vanilla
1 1/2 C - confectioners' sugar

If you try either recipe, let me know if you give it thumbs up!

Have a great weekend folks.
God bless...
:> )