To celebrate yet another year of livin' on this planet, my sweet hubs took me to the Farmers Museum in Cooperstown, New York. Even though this place is only an hour away from us, we've never visited it.
Well let me tell ya, I do believe I died and went to 19th century heaven! It was freakin' awesome! I couldn't have asked for a more gorgeous but unusually warm autumn day. The worst part was I filled up my memory card on my digital camera way too soon! Oh well...
Kick back and enjoy.

Yep, known as the Empire State Carousel and the only "museum you can ride."

And guess what we did...


Hubs rode the Canada goose, the tallest critter.


I thought it appropriate to ask which one was the oldest carved critter.
The gal pointed to the ol' pig. She dates back to 1915, so I hopped on!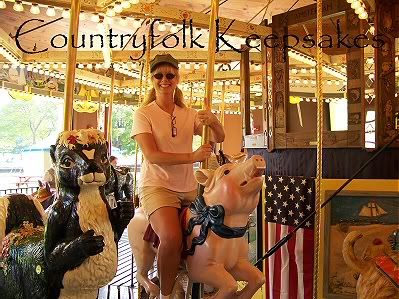 The carved animals were amazin'!!


Since it was my birthday, they played me a carousel birthday ditty. I was honored!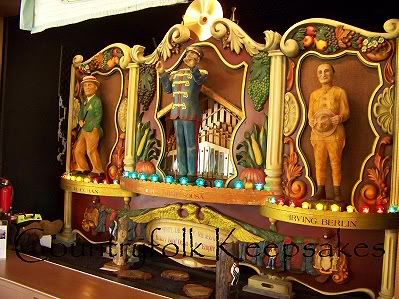 Next stop was the one room schoolhouse. It was my favorite!
C'mon in.


Ummm... For the record, I was never this well behaved in school.


Here's a really cool pumper fire truck.


Look how beautiful the back of it is!


Vintage milkin' stools. I'll take one of each please.


Farmhouse linens bein' made on a beautiful loom.


I loved how the clothin' lay in these drawers.


Gorgeous old crocks up the wazoo!


Here's the blacksmith. Man, it was very cool in there! Check out those gigantic bellows (above his head) to stoke the fire.
Ooooh, I betcha I could wrestle those around to get the fire in our wood stove goin'. And I'd probably burn the house down too. Yikes!


The ol' farmhouse was my second favorite place.


These gals were just as sweet as can be!


She was cookin' a roast in the fire. It smelled so good I was tempted to plant myself at the table and tuck a napkin under my chin. But I would have embarrassed my hubs.


I took so many more pictures, but I can't possibly post them all.

After, we scooted across the street to the Fenimore Art Museum. Oh my!! They had a Native American Exhibit that was phenomenal! I was totally smitten with this gorgeous beaded horse mask made by the Lakotas.


Finally after all was said and done, we came home.
Then I enjoyed a delicious cup of coffee in my new piece of handmade pottery. Oh, did I forget to mention we bought 2 lbs. of homemade fudge from Fly Creek Cider Mill?


Heck, that won't last 24 hours.

Well that's all folks!!
Have a fantastic weekend!
:> )