and tackle a few large kitchen projects.

As much as I loved my colonial red cupboards, I thought it was time to lighten 'em up!

I picked up Rustoleum's Cabinet Transformations kit and hit the floor running!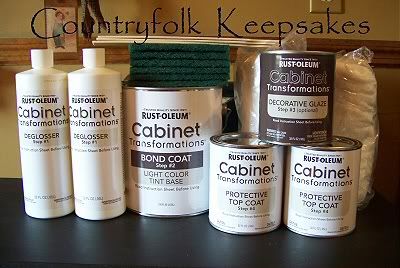 I decided on the color "English Cream." Here's a sample of it...

I also have "samples" of it on my knees, arms, hands and face.

Since I haven't won the lottery or pulled 7 grand in change out of our couch cushions for granite counter tops, I'm going to use Rustoleum's Countertop Transformations.

So I'll be scarce for awhile. But I promise when I'm done, I'll share before and after pics with you.

If interested: Here's the direct link to my Rustoleum Countertop Transformations tutorial.

Oh! And here's an update on Steve the Chipmunk.
Today I saw him run down to the creek in a Speedo carrying an inner tube.

Remember to enjoy nature!
:> )