cookie recipe with you in the past but they are just so daggum delicious I thought I should post it again.


I just made a batch on Saturday for our neighbor who had surgery. I managed to stash a few away for myself but you didn't hear that from me. *wink*wink*


Man, I have a serious addiction to these cookies. Well, truth be told I have a serious addiction to most cookies but these in particular.

Iced Pumpkin Cookies
(they are more cake-like)


2 1/2 C - all-purpose flour
1 tps - baking powder
1 tsp - baking soda
2 tsp - ground cinnamon
1/2 tsp - ground nutmeg
1/2 tsp - ground cloves
1/2 tsp - salt
1/2 C - butter, softened
1 1/2 C - white sugar
1 C - canned pumpkin puree
1 egg
1 tsp - vanilla extract



Cream Cheese Frosting:

8 oz - softened cream cheese
1/2 C - softened butter
1 tsp - vanilla2-3 C - confectioners' sugar


Preheat oven to 350 degrees. Combine flour, baking powder, baking soda, cinnamon, nutmeg, ground cloves, and salt; set aside.

In a medium bowl, cream together the butter and white sugar. Add pumpkin, egg, and vanilla to butter mixture, and beat until creamy. Mix in dry ingredients. Drop on cookie sheet by tablespoonfuls; flatten slightly.

Bake for 15 minutes. Let cool, then frost.

Note:
I really like to load up my cookies with the cream cheese frosting. If you prefer a lightly iced cookie, you can cut the frosting recipe in half. (But personally, I think you'd be nuts to do so!)


Enjoy!
As you can see, I sure did.
Shhh...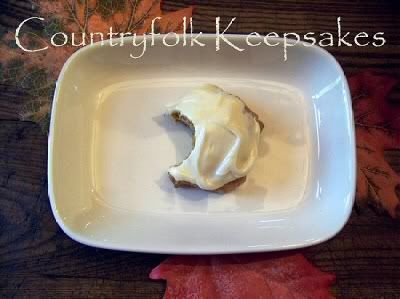 These are a perfect treat for Thanksgiving and Christmas.
Or for Polar Bear Day, No Socks Day, Squirrel Appreciation Day, Left Hander's Day, Race Your Mouse Day, Marooned without a Compass Day, Clean Your Refrigerator Day, Wear Brown Shoes Day...

:> )