Truth be told, I am not a big "fan" of ceiling fans. *giggle** Sure they keep a room cool in the summer and help circulate the warm air in the winter. We have one in our living room. It's okay, I guess. But they just aren't the most attractive looking things, you know what I mean?
Well... Not until I came across this one!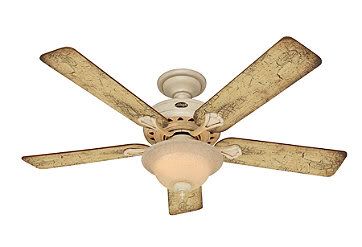 Now unless you like old, beat up looking stuff you probably gasped at the sight of this fan.
Nope, not me. I oooh'd and ahhh'd over it. Although I am not really diggin' the light fixture.

I'm kicking around the idea of having one in the kitchen. I thought this one would look nice with my 1776 American flag peninsula.

I really don't want one in there but unfortunately, the vaulted ceiling traps all the toasty warm air from our wood stove. I know heat rises, but it is amazing the change in temperature up there!
We tried those wee (loud and annoying) corner fans, but I could have literally stood in the corner and blown more hot air out of my trap better than those things.

So... Here are my choices. We could either be practical and get a ceiling fan. (b-o-r-i-n-g) Or keep my impractical, rustic chandelier (that I love and really don't want to part with) and stand on ladders. OR... Maybe make an indoor rock climbing wall?? Stilts? How about Jet-Packs??

Have a terrific weekend, all!!
:> )