I love our den. I love my American flag walls. I love my Americana decor.

But I cringe at the sight of that blue carpeting that's in there! It's old, worn and it has to go. But what to do? What to do???

Since I don't have a money tree, a counterfeit printing press, or a long lost, old, extremely wealthy great uncle with one foot in the grave and the other on a banana peel, my options are limited.

I am not a wall to wall carpeting kind of gal. So I thought about continuing the laminate wood flooring like in our kitchen. But the expense of having someone install it is not doable right now especially with this horrible economy.

Sure, my hubs and I could try to install it ourselves. But my measuring skills are something to be desired. I can't figure out 1/8 of an inch or 1/16 of an inch to save my life.

"It's the fourth little line after the longer line after the number 18." That's how I measure with a tape measure. Then there's the whole
power tools + accident prone me = ER visit issue.

I've been looking online and must admit I am impressed with floating vinyl plank flooring that's out there now. Man, vinyl flooring has come a long way!Our den isn't that large so how hard could it be to lay this stuff down? Then add a nice area rug...
This is something I'm going to look into.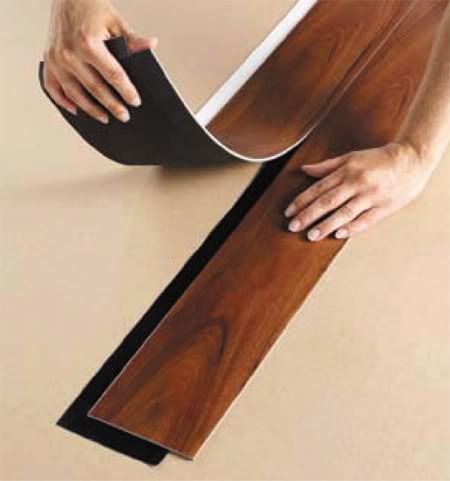 I love the look of this one!




George thinks I should go for it. He's tired of the nasty blue carpeting too.




UPDATE: We did it!!



George is very pleased.




:> )