lived under our old brooder house. Apparently "Bob" is really "Bobbie" because I caught her two lil' young'uns having a picnic inside my rustic barn wood flower box. They were chowing down on my lovely petunias I planted last week.




Chewed 'em down to nubs. The only thing missing was the red and white check tablecloth.
Who knew woodchucks could climb???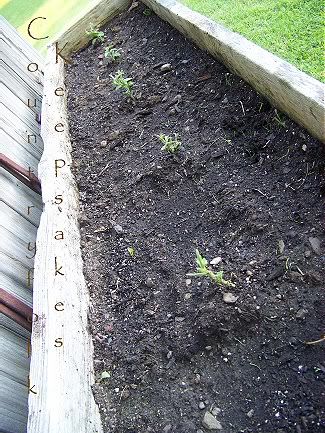 As soon as they saw me walk towards them, they each did a swan dive right into the hole in the ground below. (Very similar to a Bugs Bunny move I saw once, minus the orchestrated music.)

Unfortunately I didn't have my camera with me. But one had an iPhone on him. I'm pretty sure he snapped a pic of my reaction to what they had done. Which is probably why I heard faint giggling as I walked back to the house.

First chipmunks bandits, now the furry Doublemint Twins. Tomorrow, a deer will probably hit me with a paint ball.

Enjoy nature.
:> )