I like to think of myself as trying to grow old gracefully. I've come to grips with the fact that I have crows feet, lots of gray hairs, creases around my mouth, a pot belly and wrinkly knees. Unfortunately, I'm also working on a second chin.
But there's one thing I am not handling well at all and that is having to wear reading glasses. I can't stand not being able to see up close anymore.

Simple things like reading the phone book is next to impossible to do now. Even with cheaters, I still can't see the dang print. Sigh. My whole life I've always had great vision. I can spot a Snickers bar a mile away.

Now my daily routine consists of constantly reaching for cheaters. I do keep a pair on top of my head but I'm still reaching for another pair. Why? I don't know. It's become reflex.
Man, I can't count how many hairs I've lost to wire cheater hinges. I take the glasses off the top of my head and remove a clump of hair with them.

Then I'm constantly removing them off my face. I can't see up close without them on. I can't see far away with them on. Glasses on. Glasses off. I'm like a visually impaired Mr. Miagi.

I have those cute lil' eye glass chains, but those can be annoying. Swaying back and forth. Getting them caught on everything. Try putting on a seat belt with chained glasses around your neck. I have to leave 10 minutes early just to arrange everything. Better yet, try leaning over your grocery cart with them dangling. I become Harry Houdini in the dairy aisle trying to untangle myself. When I'm finally freed, the guy stocking cottage cheese applauds.

Or when someone wants to show me photos on their smart phone. Really?? Do you expect me to see those on that tiny screen? I can either stand 14 feet away and view them or hope I can whip out a pair of cheaters fast enough before they impatiently roll their eyes at me.

Here's a sample of a some of my cheaters.


Yep, I even keep the ones I broke an arm off of. Hey you never know when I might need them. In a pinch I'm willing to look like a complete fool to be able to see something up close. I have no shame anymore. I'm an old, pot bellied, wrinkly kneed, soon to have another chin gal.

Nope, I'm not handling it very well.
**giggle**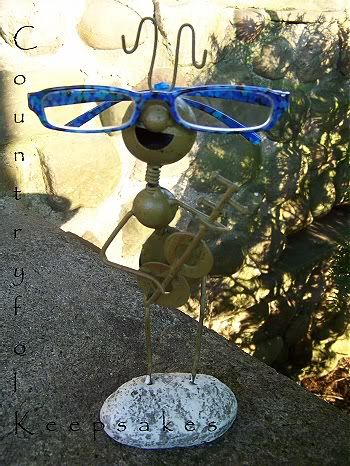 These blue ones are my favorite.

Happy Monday!
:> )