Well, I jumped the gun on the "low humidity" comment. As soon as I typed those words, the humidity went back up again. Humidity is not a friend to crackle glaze. No siree, Bob!
But with the a/c cranking, I was able to give a wonderful, soft weathered look to our ceiling fan.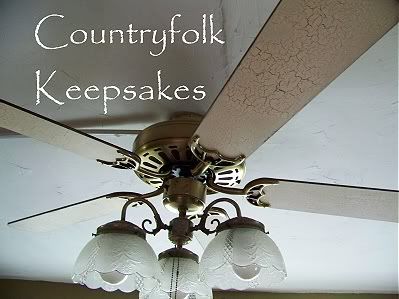 Here's a quick summary of what I did in case anyone wants to tackle their own project.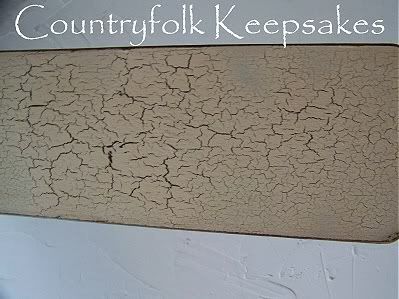 Base coat: Anita's Acrylic Craft Paint in Bark Brown.
Ralph Lauren's Crackle Glaze
Top Coat: DecoArt Americana Acrylic Paint in Light Mocha.

That light mocha is a wonderful color!! My camera doesn't do it justice.


Before: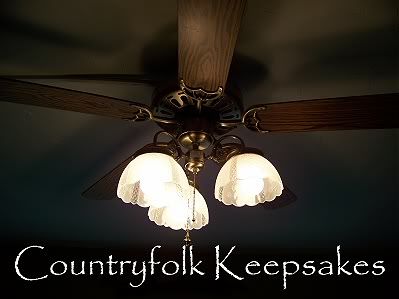 Here's a few of my own crackle tips to pass along to you.

If you want large cracks, apply the glaze thick and with a brush. Also use a brush to apply the topcoat. Only problem is it tends to show brush marks.

If you want fine cracks, apply the glaze thin and with a foam roller. Also use a foam roller to apply the topcoat.

Since I wanted finer cracks, I used a foam roller. But I applied it a little heavier in some spots. That gave me some larger cracks.

Don't' get antsy! Let the crackle glaze dry (to the touch) before you apply the top coat. Apply it when it's still wet and you may smear all your hard work.

After blades dried, I lightly sanded them (especially the edges) to give a slightly worn look. You could also apply antiquing, but I chose not to.
Then I sealed them with a spray matte sealer.

So if you're a little on the daring side and want to jazz up your old ceiling fan, I say go for it and have fun!!

:> )