A few years back I posted a delicious blueberry muffin recipe.
Since it's blueberry season in these parts and today I bought my first batch of blueberries from the gal down the road; I figured I'd share the recipe with you again.

Even though it was 92 degrees outside with 4000% humidity, I turned on my oven and baked them. Yes, they are THAT delicious!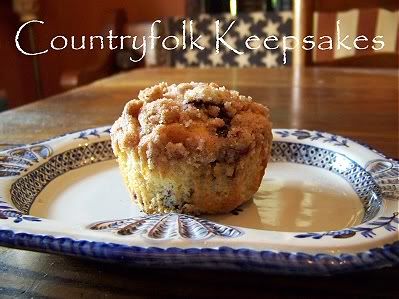 (Heavenly) BLUEBERRY MUFFINS

1½ C ~ All purpose flour
¾ C ~ Sugar
½ tsp ~ Salt
2 tsp ~ Baking powder
1/3 C ~ Vegetable oil
1 ~ Egg
1/3 C ~ Milk
1 C~ Fresh blueberries

TOPPING
½ C ~ Sugar
1/3 C ~ All purpose flour
½ Stick ~ Butter (cubed)
1 ½ tsp ~ Ground cinnamon

Preheat oven 400°. Grease muffin tin or line with muffin liners.

In a bowl combine flour, sugar, salt and baking powder. Place oil in a one cup measuring cup, add the egg and enough milk to fill the cup. Mix in with flour mixture. Fold in blueberries. (lightly dust them in flour to keep them from sinking)
Fill muffin tin. Sprinkle with crumb topping.

To make crumb topping:
Mix, flour, sugar, butter and cinnamon with a fork, then sprinkle over muffins before baking.

Bake for 20 minutes.
Yield: 6

NOTE: I decided to use my cupcake tin instead. So not only did I double the batch, they are smaller and smaller means less calories!! Woo hoo!!

Well... not really. I ate two small ones instead of one large one.
But it was a nice thought.

Enjoy!

:> )