I recently learned about Man Candles by Yankee Candle Company.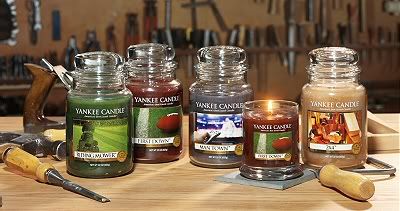 Is this a new concept?? Sorry, I don't get out much.

They have scents like:
"2x4" ~ The warm, unmistakable scent of freshly planed wood and sawdust evokes a sense of confidence and quality.
"Riding Mower" ~ Hot sun. Cool breeze. And the intensely summery scent of freshly cut grass.

Sawdust and mowed grass??? Oh my!!! Those are a few of my favorite smells, how awesome is that?! ♥

I am definitely going to check them out.

Hey! Maybe they'll come up with a WD-40 candle!

Oooh better yet, I could just dab a little behind my ears.

:> )

Have a great weekend!!