I've admired those Wolf Commercial Stainless Steel Gas Cook Tops for quite some time now. I love everything about them, especially the red knobs.
But when I priced them, I realized I will continue to admire them. ((giggle))

So as I stood there glaring at my old, scratched, electric Jenn-air cooktop it got me thinking... Wouldn't it look better if these tired, old knobs were red?! Well of course it would!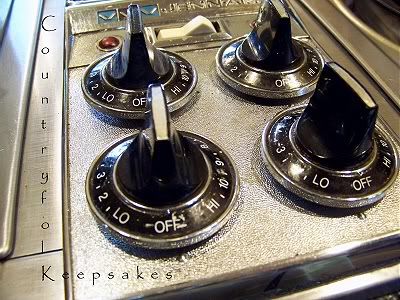 What came to mind?
**Insert Final Jeopardy tune here**
"Spray paint!"

Hmmm... I will have to check my hub's stash. It's times like these I am grateful he's a motorhead and has many high temp engine spray paints in the barn. Shhhh. But he doesn't need to know that.

First step, I cleaned them really well. Then I scratched them up with some sandpaper and taped them off. I really wanted the whole knob red but the lil' numbers are on the actual knob.
I'm a pretty good cook, but not that good of a cook.




Next, I primed them. But forgot to take a photo.

Then came time to spray paint them red. Since Ford never took a bailout from our government (unlike other car companies), I happily used "Ford Red."
(C'mon! You know I couldn't resist that one.)




Two coats with a light touch did the trick.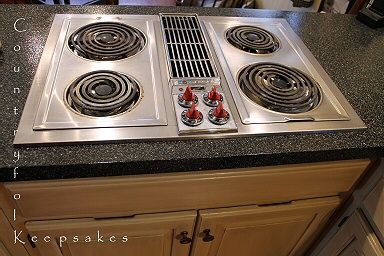 Sure it's not a Wolf commercial gas cooktop. But it's got cute lil' red knobs and it didn't cost me anything.

P.S.
My hubs thinks I'm absolutely insane, but really likes the way they look.

:> )