Between you and me, 2012 hasn't been the best year for us here at the Countryfolk homestead.
Recently losing my precious Darla and dealing with the complications from my mama's back surgery, I'm ready to kick 2012 in the shin, send it on its way and ring in a better 2013.

That being said, I am finally able to take the time to bake some Christmas cookies. But unfortunately, I will only be baking a few batches instead of my 400+ cookies. Oh well... But my hips and thighs will thank me.

You all know I am a Christmas cookie nut and I've been chomping at the bit to try this new recipe! (I posted the link a few days ago)

They are called "Dark Chocolate Shortbreads."
Well, I baked my first batch yesterday and I was not disappointed!!! YaY!!!

Santa will be pleased!!

"Ho! Ho! Holy Moly!
That's a good cookie!!"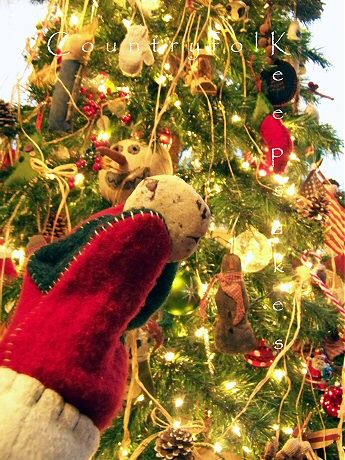 Now they aren't a super sweet cookie, but man, they are rich! The bursts of coarse salt (I know... sounds weird, doesn't it?!) gives it that fantastic salty/sweet flavor!!

Here's what you'll need:

Ingredients

1 cup (2 sticks) butter, room temperature
1/2 cup powdered sugar
1 1/2 cups flour
1/2 cup cornstarch
1/4 teaspoon fleur de sel or coarse grained salt (I used coarse sea salt)
1/2 cup dark chocolate, cut into small pieces

Directions

Cream the butter and sugar.
Mix in the flour, cornstarch and salt.
Mix the dry ingredients into the wet ingredients followed by the chocolate.
Shape the cookies as you like an place them on a parchment lined baking sheet with an inch of space between them.
Place the baking sheet in the fridge and chill for at least 30 minutes.
Bake in a preheated 350F oven until they just start to turn a light golden brown, about 8-14 minutes, remove and let cool. (The shortbread will still be rather soft when it is done but it with crisp up as it cools.)

The next batch I bake, I plan to tweak it just a bit by adding more of the dark chocolate. Also, I rolled them into 1" balls, flattened them and baked them for 11 minutes. They came out perfect.

So if you're looking for a more "adult" Christmas cookie, I'd definitely recommend this recipe.

Happy baking and be merry.

:> )