Well, it's that time of year! Woo-hoo!
Time to break out my stretchy sweat pants to fit my soon to be expanding waistline... hips... thighs...

This weekend I plan to be covered from head to toe in flour, have chocolate smeared all over my face while sporting my stretchy sweat pants.

Man, I can't wait to try a few new recipes I found on Pinterest. The first one is Dark Chocolate Shortbreads and the other is Homemade Nutter Butters.
Hopefully, I won't eat them all before Santa's arrival.
(But there are no guarantees in life except for death and taxes.)

Also, here's a recipe for Frozen Peanut Butter Banana Pops for you canine furbabies. These are so cute!

I thought I would share with you again some of my favorite cookie recipes.


My Daddy's Favorite Chocolate Covered Cherry Cookies ♥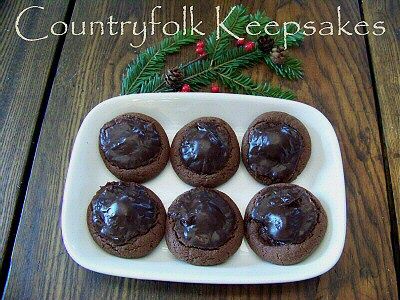 1 1/2 C - Flour
1/2 C - Unsweetened cocoa
1/4 tsp - Baking powder
1/4 tsp - Baking soda
1/2 C - Softened butter
1 C - Sugar
1 - Egg
1 1/2 tsp - Vanilla
Large jar of Maraschino cherries

Frosting:
1 C - Semi sweet chocolate chips
1/2 C - Sweetened condensed milk
4 tsp - Maraschino cherry liquid

Cream butter, sugar, egg and vanilla. Sift together flour, unsweetened cocoa, baking soda and powder.
Add dry ingredients to creamed mixture. Shape into 1" balls and place on un-greased cookie sheet. Press in the center with your finger.




Drain maraschino cherries and reserve the liquid. Place a cherry in the center of each cookie.




In a small saucepan combine and melt chocolate chips, condensed milk and cherry liquid.
Frost each cookie. Yep, you frost 'em BEFORE you bake 'em.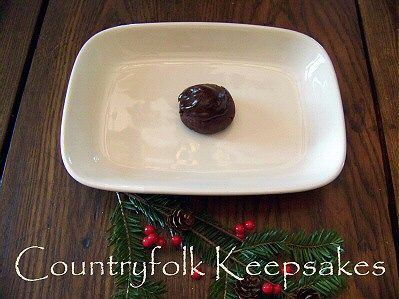 Bake at 350° for 8-10 minutes. (9 works perfectly for me)


Tea Time Tassies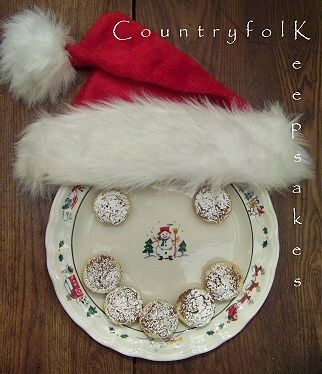 Dough:
Two 3 oz pkgs-Cream cheese (softened)
1 C-Butter (softened)
2 C-Flour


Mix all ingreds. (Chill dough for a few hours so it's not so sticky to work with.)
Roll dough into small balls, place and press into mini muffin tins to form wee "crusts".

Filling:
2-Eggs
2 Tbsp-Butter (softened)
1 ½ C-Brown sugar
2 tsp-Vanilla
Pinch of Salt
1 1/3 C-Chopped walnuts (I've also used pecans, they are just as tasty)

Spoon filling into individual muffin tins. (Don't overfill) Bake at 325° for 20 minutes. Gently remove each with a knife tip. Sprinkle with confectioners sugar while still warm.

I tweaked the recipe a little. Instead of two 3 oz. pkgs. of cream cheese I plopped in an 8 oz. package. Worked just fine. But if its too sticky, throw in a pinch or two more of flour.

Cream your butter and cream cheese.

Add your flour to form your dough.

Oh man, this is the tedious part, pressing out the dough into those mini muffin tins. Since its a tad sticky, stick your finger in a lil' flour before you press out your crusts. Works like a charm!

Now its time to mix up the goopy filling. Talk about a pure sugar rush! Try some of that and you'll be flying around your kitchen like a hummingbird.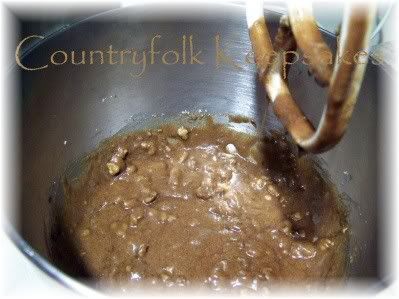 Spoon the mixture into each wee crust. I use a teaspoon and it still gets all over the place.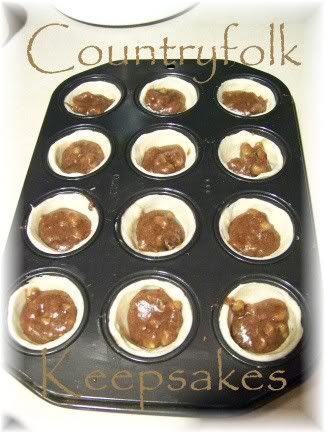 After coming out of the oven, let them slightly cool. Use a knife tip to gently pluck 'em out of there.




Finally, sprinkle confectioners sugar over them, hide 'em from your family and you're done!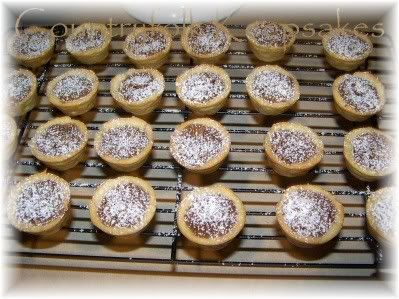 Best Ever Victorian Butter Cookies




2 1/2 C ~ Flour
1 C ~ Sugar
1 C ~ Softened butter (two sticks)
1 ~ Egg
1 tsp ~ Baking powder
2 Tbsp ~ Orange juice

<---- Shhhh... That's the secret ingredient.
1 Tbsp ~ Vanilla Yes, you read that right.

Frosting
4 C ~ Confectioners sugar
1/2 C ~ Softened butter (1 stick)
3-4 Tbsp ~ Milk
2 tsp ~ Vanilla

Combine butter and sugar. Add egg, OJ and vanilla. Add baking powder and flour. Mix thoroughly. Divide dough into three equal portions. Wrap each in wax paper, refrigerate until firm. (2-3 hours)

Roll out dough on well floured surface to 1/4" thickness. Cut with 3" cookie cutters.

Bake at 400° for 7-10 minutes or until edges are lightly brown. Cool completely.

Mix frosting ingredients until fluffy. Frost and decorate cookies.


If anyone has a delicious cookie recipe you'd like to share, please do.
Heck, I'm always up for a good cookie.

Be merry!

:> )