A little too dramatic?
((giggle))

So what if my "freedom" yesterday was grocery shopping. I couldn't wait to go!! (Man, I never thought in my wildest dreams I would ever type those words.)

I do absolutely adore my Stella, but I haven't left the house in 6 days. I've been cooped up in one room, my brain is fried from lack of sleep and my attack puppy battle wounds are severe. She has chomped, chewed, scratched and gnawed me from head to toe. I needed to get away.

So I was able to finally brush my pillow head hair and throw on a little makeup.
I thought about painting blue stripes down my face, but I figured I'd get funny looks as I strolled down the aisles.

I did have quite the spring in my step as I shopped. Muzak was playing all 80's songs. I couldn't be happier! I sang along to Foreigner's "Urgent" as I reached for that 1/2 gallon of ice cream. Hey after the week I've had, it was a necessity. Right up there with butt wipe.
If they had played "Billie Jean" I would have moon walked. Yes, I do know how and I'm not ashamed to admit it.

But as I went through the checkout I couldn't help but think about my little alien head and smile. I was gone for only an hour and I missed her terribly.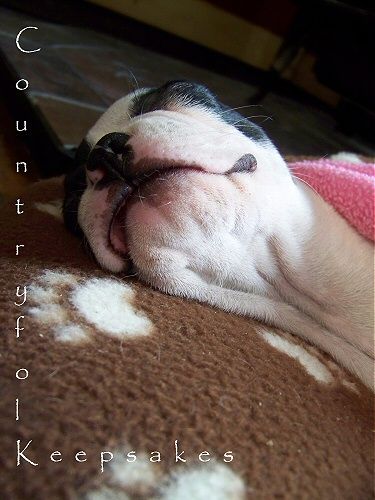 I couldn't wait to get home and give her puppy kisses.
♥

Happy Friday, everyone!!!

:> )