when you burn the midnight oil until 9 P.M.

It's over folks! I didn't want it to happen, but it did anyway.

I'm officially as old as Tennessee Tuxedo.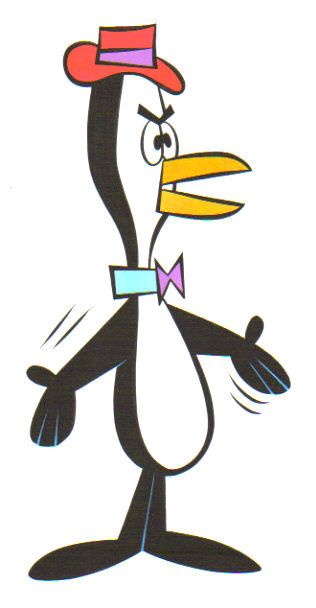 Yes, he and I turned a half century old this week.

Truthfully I'm not bothered by the number. It's just a number. Besides, I definitely don't feel 50.

Although I really hate not being able to see up close.
But my biggest complaint is my once hourglass shape is now more like a bowling pin. With a pot belly... and wrinkly knees... and chipmunk cheeks... and back fat... You get the gist.

No big shindig. Just a tiny, simple family gathering.

Coming from a tiny, family of crackpots, my family didn't disappoint either.

Here's how my big sis wrapped my gift. Be sure to read all the clippings.
Leave it to her to take the "Abilify Gal" and give her gray streaks in her hair.
Thankfully, as depressing as turning 50 can be, I have no need for the Abilify Gal's "sidekick."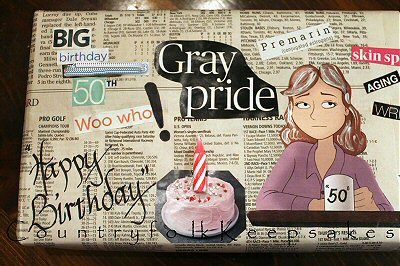 My sis would be great at making ransom notes, wouldn't she??
(I'd better not give her any ideas)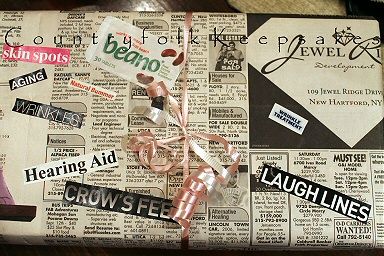 What she thought would be a gag gift turned out to be something I'm thrilled to have!
As I mentioned, I can't see anything up close anymore, so this keyboard with gigantic letters is perfect! No more fumbling for my readers!! YaY!!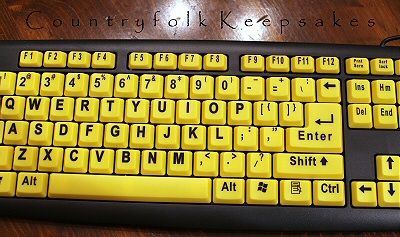 It's also a good thing because I somehow wore most of the letters off my old keyboard!
Maybe it's because as my sweet hubs puts it, "She bangs on those keys like Schroeder." Some of you will get that.

Hmpf! I just don't have a light touch.

So here's our tiny motley crew.




My big sister, yes, I'm the mayonnaise face in the middle with the birthday crown (who really needs a tan) and our mama.
I must look like the milkman.
((giggle))

I had to laugh. As my mama was leaving and my hubs was walking her through the house and out the door, I hear her yell, "HEY!! WHEN DID YOU GET A DOUGH BOX????!!!"

Man, I can't get anything past that woman. Even at 75, she can still spot the "goods."

So overall it was a great day like every day of my life. Hey, when the good Lord above allows you to wake up every morning, every day is a great day, right???

Soooooo..
Does anyone want to go bowling?!
I'll happily stand in the lane.

:> )