We sure did!

Spent time with family and friends and just enjoyed being with each other.

Hubs and I don't exchange gifts. We buy what we need throughout the year, so really there is no need to exchange gifts with each other.
HOWEVER, we tend to get (practical) gifts from our furbabies.

For example Stella and Gracie got me a couple of wonderful hoodies, a pair of insulated Mossy Oak camo pants and some working gloves.




No I don't hunt, but I plan to wear the camo when I go for walks on the trail. This way no one will be able to see me. ((giggle))
Loading firewood like I do, I was in desperate need of some good leather gloves and I got them.

Then Stella and Gracie bought my sweet hubs a nice throw to cover up on the couch with on these cold winter evenings. A farmhouse built in the late 1800's can be awfully drafty.

Which leads into his next gift.

Living in an old farmhouse occasionally brings some unwanted "visitors" of the four legged kind. I have mentioned in the past about little gray mice that tend to "stop by" in the attic.

My sweet hubs has certain jobs around the house (that I refuse to do) and mouse duty is one of them. I do love mice, but not in my home. So they've got to go.

Getting up in our attic is quite the project. No stairs. Just a small opening in the ceiling. So when he has to check the attic it's a pain in the butt. Drag out the ladder, set it up... This has been going on for 13 years.

So under the tree this Christmas for my sweet hubs was an attic extension ladder.
But you'll be surprised who it was from.

This note was on his gift...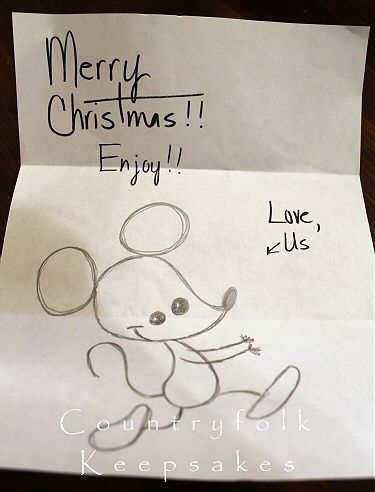 :> )