I have an idea in my head as to how I want my "bathroom on a budget" remodel to look.

But I've actually surprised myself with the wall color I'm leaning towards. I'm 99.999% sure I'm going to go with it.

First here's a peek at some of the new bathroom pretties.

A pedestal sink, new faucet, white vinyl wainscoting (perfect for bathrooms!) and the old/new mirrored medicine cabinet facelift I did on it.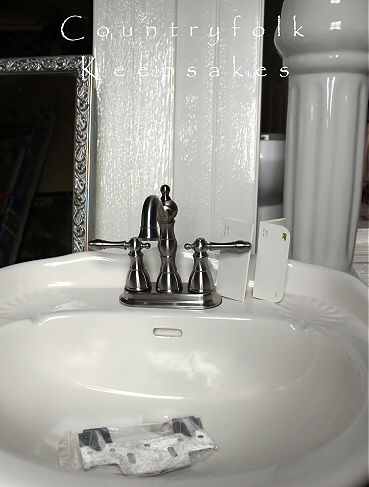 Since I'm going with brushed nickel fixtures I decided to go with a wall color I never thought I'd see in my house. Gray.

Here's a few of my bathroom inspirations.




Yes I understand gray is a hip, hot color these days. But gray is a "cool" color and I am a "warm" color kind of gal.

That is until I found this neutral, warm gray!

It's called "Silver Drop." As I said, I'm 99.999% sure I'll use this color. My only concern is it might be too dark. Our bathroom is "smallish" with only one window. Although this color doesn't look dark, it may be on the walls.
But I think having white wainscoting below it will give just the right contrast and be visually pleasing.





Next is the door and window trim color. I really like this one! Again by Behr.

It's called "Sea Salt."





I did buy samples. So we shall see.

Well that's it for now.
I'm still waiting on more stuff to arrive. But I'll keep you posted with our progress!


Happy Tuesday!

:> )