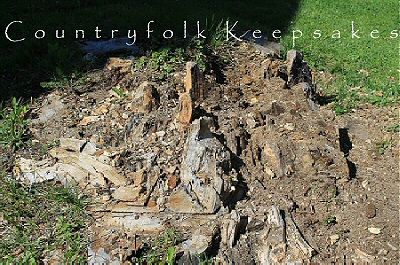 I've been asking my sweet hubs to try to removal a maple tree stump very close to our house. We've both hacked at it over the years thinking over time it would rot away. Wrong! This thing is just as solid as the day we had it cut down.

My sweet hubs had a "brainstorm" idea. His country living roots brought him back to if you needed something removed, you'd wrap a heavy duty chain around it and "remove" it.

So he wrapped one end around the stump. The other around his old Jeep's hitch.

Hmmm... I was a little hesitant. So I decided to watch from the kitchen window.

Well what happened next could have been a YouTube moment if I only had my camera!

C R A S H!!!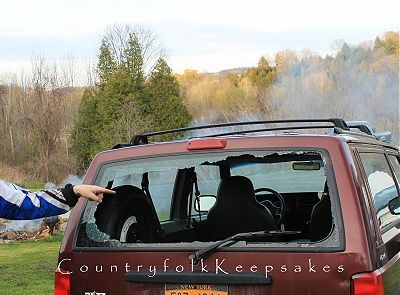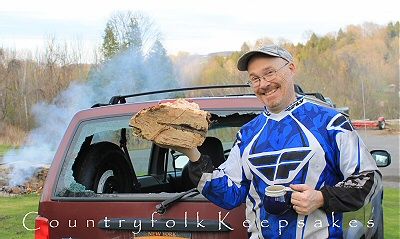 I swear, that chunk of maple had it in for my sweet hubs. Its projectile, laser aim was perfect!!

I ran outside to make sure he was okay. When I saw him get out of his old Jeep laughing, I breathed a sigh of relief and started to laugh right along with him.

Glass was everywhere!! I never thought I would ever say I had to Shop Vac our lawn, but I did. We couldn't have glass anywhere our precious furbabies step. So I vacuumed the lawn. Craziness.

We still have a little more to remove. But I prefer we go back to the hacking with an axe method.



Next, I must tell you about a fantastic product I purchased and used over the weekend!

It's called "Nature's Secret Weapon." It's a top notch odor eliminator product.




Remember that lovely (almost perfect) settee I purchased?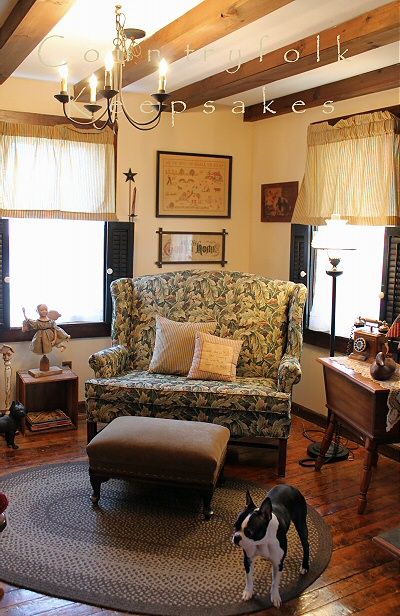 Well it had an odd, funky, musty basement/attic/ (barnyard?? Who knows?) smell that I couldn't get rid of. I tried everything.
I went online looking for something. Anything. Then I found this product. It was my last hope before I chopped up that settee and use it for firewood.

I'm telling you, this stuff is a miracle product!!! The smell is completely gone!!

It's a concentrate, so you dilute with water to the strength you need. Man, if you have cats or dogs, this product is a must! They've got a money back guarantee too. But I'm convinced, it will get rid of any funky smell you may have.

Although I don't suggest you hose down your spouse after a long, sweaty day of stump removal.
((giggle))

Happy Monday, all!

Wishing you a happy and productive week!

:> )