yet again.
Of course when I move furniture around, I feel the need to paint something too. ((giggle))

Actually, I've been champing at the bit for many years to paint the trim in this room.
It has that 1970's darkish pine stain which we all know how much I "love" that look. *please note sarcasm*
I think the dark wood beams are enough.

I've refrained because my sweet hubs doesn't want me to. Heck, I don't even know what color I'd like to paint it. All I know is that it needs to go. Bu-bye.




Icky-poo-poo..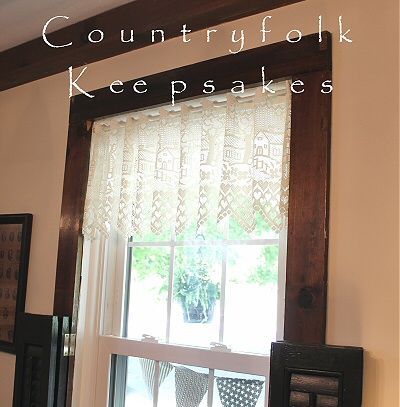 So tell me, am I nuts??? Ummm... I'd better add to that question.
Am I nuts for wanting to paint the wood trim? What would you do?

I thought about just going white. Then I started looking around at a complimenting darker color. Not sure how it looks on your screen, but on my screen these colors look nice with the antique white on the walls.

Here's my wall color:



Here's what I picked.
Unmarked Trail:



Livingston:



Dry Pasture: (might be too dark)



I need to make a Home Depot run and look at the actual paint chips.

I did have a sample of Sculptor Clay so I painted some on a board and held it up next to the trim. It looks nice. But it may be too grey. Since I change furniture around as often as I change my underwear, I need to stick with a more neutral color. ((giggle))
I'll snap a pic of it later.





:> )