It's so long Rustoleum Countertop Transformations countertop and hello Formica 180fx Soapstone Sequoia countertop!
YAY!!!
The install company called just a day ago wanting to know if I'd like my countertop installed on Monday.
Does a bear sh*t in the woods???
Why of course I do!!

Then I had to break the news to my sweet hubs. You see, I have to remove the old countertop before Monday. When I say "I", he knows it means "him."
He works so hard during the week, he really values his weekends. So removing a kitchen countertop isn't high on his weekend priority list of things to do.

But he will help me tackle it tomorrow. Since this farmhouse was built in the 1800's I pray we don't run into anything major because neither one of us knows what the heck we're doing. ((giggle))

Thankfully, I know myself well enough not to do anything too permanent when it comes to cosmetic updating this place. So when I put up the beadboard backsplash, I tacked it on and didn't use any glue. WHEW!!! So when I removed it, it came off like buttah.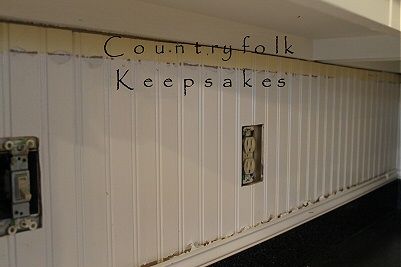 I thought I'd snap a few pics of her one last time before she goes.
Man, I put a lot of muscle and sweat into that countertop.
She served me well over these past few years, but it's time to say goodbye...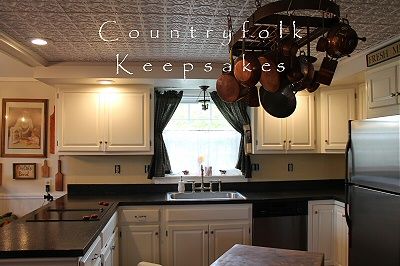 Remember those listello tiles I had to have for under my kitchen window and behind my sink? I found them! But the store that carried them required "pick up only." Oh and guess what else? The store is in Ohio. So I really had to put my thinking cap on.

This is where my wonderful sister-in-law and brother-in-law come in. Not only do they live in Ohio, one of the chain home improvement stores is only a mile away from their home!! Yippee!!

So I ordered the tiles. They picked them up, wrapped them up and popped them in the mail.

The box arrived yesterday and when I opened it, half the tiles looked like this.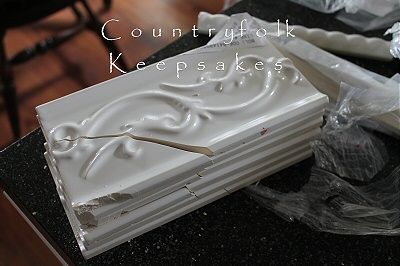 Sigh... This answers my question as to why they were "pick up only."
The blood stain is from when I sliced my finger open on them.

But believe me when I tell you, the ones that aren't cracked are absolutely beautiful!

So tomorrow I'll be tackling the countertop removal.

Here's a heads up...

If by some chance you hear cursing in the faint distance, you'll know it's me trying to tackle the countertop removal.

Wish me luck!

:> )