First... the cows.

As I mentioned in a previous post, I was waiting on another cow print (from another talented artist) to hang in my "new" kitchen.

Well she arrived today.




She is totally me. Right down to her expression.

In case anyone forgot, this one definitely has my sweet hub's expression. ((hee hee))




Now for the cooktops.

Today I took a ride into town to find the only dealer who carries Jenn-Air downdraft cooktops.
I was quite pleased with the quality of the unit, right down to the grills and knobs. The photos on their site make them look chinzy and don't do them justice.
It has a 17,000 BTU which I know nothing about since I've never cooked with gas. But from what I read, the BTU is good for a high output burner.

Since I have all stainless steel appliances (which I love), I thought a stainless steel cooktop would be wise. BUT the more I thought about it, I decided it's really not that wise. At least for me. I tend to "over clean" my stainless steel. Especially the first cooktop we had which was stainless.
"over clean" = accidentally scratch the h*ll out of it by trying to clean it




The other choices are (porcelain) white or black. White is out of the question. As lovely as it would look in my countertop, trying to keep it shiny/clean will make me absolutely nuts. So I think it's best to pass on the white.

That leaves me with black.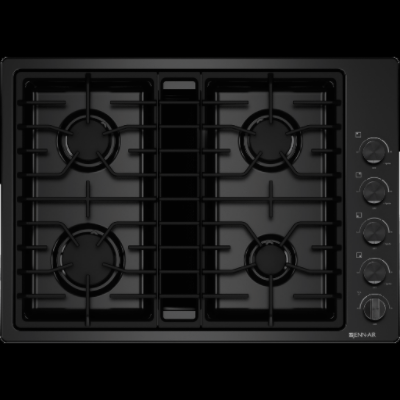 Hmmmm... I'd never think to buy a black cooktop. Then again the cooktop I have now is black. But for the amazing deal I got on it, it could have been purple for all I care.
Okay, that's a lie. I wouldn't put a purple cooktop in my kitchen.


Anyway, since my other stainless steel appliances have black accents and my kitchen in general has lots of black accents, I think black is the way to go.




Now, if anyone out there has a black gas cooktop and hates it, please speak now or forever hold your peace. ((giggle))

Thanks in advance.

Happy Monday, all!!

:> )