I was determined to make my "bakery" sign.

So I sneezed and coughed all over, but I got it done.
YaY **ACHOO** me!! ((giggle))
Like I said, I'm stubborn.




It didn't come out too bad either. Especially since I could barely keep my watery peepers open.

Awwww, thanks for the get well wishes. ♥
It's just a really annoying sinus/head cold. I'll be fine and back to my ol' self next week.


Hey Jinxie, here's my Homemade Chicken Soup Recipe. It's pretty basic and old school. But it'll cure whatever ails you!




To make the stock.
Toss into stew pot the following:
whole chicken fryer
3 celery stalks
3 whole carrots (Don't peel)
2 whole onions
4 chicken boullion cubes
Parsley flakes
S&P to taste
Fill pot with water and cover.




Low simmer all of the above for 2 hours. During those 2 hours, I skim off some of the chicken fat.

This next part is a little time consuming:
Remove onions, celery stalks and carrots.
Remove chicken from pot and pull meat off the bones.
Place the meat back into stew pot.

Add:
3 chopped celery stalks
3 chopped carrots (don't peel)
I like to add more parsley flakes.

Cover and simmer for another hour.

Cook up some Polish Kluski noodles. Or noodles of your choice. But trust me. The kluskis are the way to go.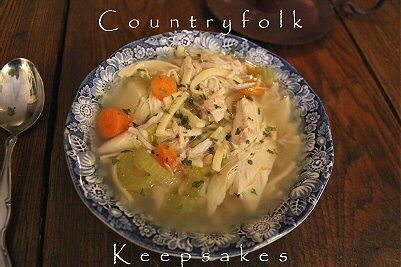 There you have it! I've always made my chicken soup this way. As did my mother and grandmother.

If I could take it intravenously, I would!

Happy Saturday, all.

:> )