I've been kicking around another idea. I really need to refinish the old pine floorboards in the original part of this old farmhouse. I'm also dying to remove the sub floor(s) in the dining room to expose the original pine floorboards. But (I think) it's a platform sub floor that transitions from the kitchen to the dining room. In turn, making a step down into the keeping room.

The first transition...
Since the kitchen as it is now wasn't original to this old farmhouse, the opening between these two rooms was originally an outside wall. Ya follow me?


To show what I mean, here's Stella my runway model.
"Stella is wearing a lovely little black and white number..."




The second transition has about a 4" step up. Or down. Depending on your direction. **wink**

I'm sure there's a reason this was done. When looking up at the pine floorboards from the basement they look like they are in great shape! But again, there must be a reason why they added a platform sub floor.

Unless they preferred to have the step in a narrower doorway and not in the kitchen opening. Who knows?!




So should I tear into it like a monkey on a cupcake and remove everything to expose the floorboards?
My heart is telling me one thing while my head is telling me something else.
If all goes well, the step up would be going into the wider opening in the kitchen instead. I can handle that.

But I'll also have to remove the old barn siding and pray I can remove it all without destroying it.
I love the look and want it back up on the walls.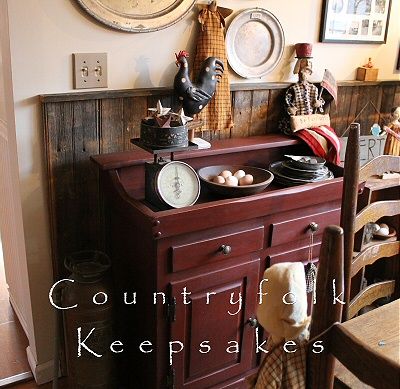 Then there's my beloved Americana flag wall. Approx. 4" of drywall would be exposed. I guess the best fix for that would be 6" baseboard molding. Which I would love! But it wouldn't match the rest of the house.




This is what I was obsessing thinking about as I practically inhaled pizza and chicken wings during the Super Bowl.
For the record I am not a football fan. Nope. Not at all. Neither is my sweet hubs.
The Super Bowl is an excuse for me to indulge in pizza and chicken wings and not feel guilty about it. It's the only football game I watch all year. Shhhh... No one needs to know that.
But I was squeezin' for Carolina.

As far as the commercials go... I'm not interested in those either. No cursing or tomato throwing, please. These are my opinions.

Actually, many of the ones I saw were too weird for me. (Too weird even for me? That's saying a lot.)
Did you see the PayPal one?! Yikes! Or Puppy-Monkey-Baby. My hubs response was "WT(fill in the blank) was that??!! I had no clue. So I couldn't give him an answer.

Thoughts on the halftime show... Again, no cursing or tomato throwing please. These are my opinions.

Coldplay? Isn't he Mr. Gweneth Paltrow? Sorry, I wasn't feelin' it.
Bruno Mars? Loved him! He's got the "old-timey" funk sound and moves down! Fantastic!
Beyonce? I do believe she has a wee one who will look up to her as a role model. She might want to put some pants on.

Lady Gaga did a beautiful job on our national anthem, The Star-Spangled Banner.




Loved those shoes of hers, too.

Anyway, I know some of you who read this blog also has an old home. So I wondered if anyone else had an issue like ours?

Happy Monday, all!!

:> )