You remember it.




The beat up hutch that goes with the vintage Windsor dining room set we got a few years back. It's so huge it doesn't fit anywhere. It's truly too big for this small farmhouse. I ended up putting it in my studio to use it for storage.

There are two reasons why I can't bring myself to get rid of it.
One Reason: The storage. Believe when I tell you, when you live an 1800's farmhouse, there is no closet space and no storage space. So you have to get creative and find furniture to hide all your cr*p in. ((giggle))

The Second Reason: They don't make furniture like this anymore. This thing is... Solid! Solid as a rock! Sorry, my inner my Ashford and Simpson is showing.

So today when I walked by it, I thought to myself, I have the sandpaper, primer, paint and muscle. It's time to paint it. I just need to muster up some energy.

Well, I did.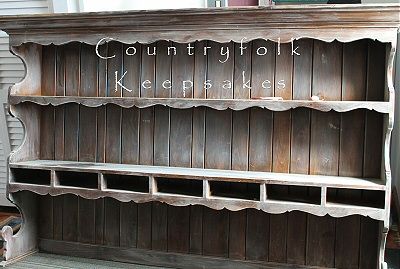 I'm hoping the lighter color I'll paint it will make it blend into the wall it'll be up against and not be so noticeable.
In my best Tommy Flanagan voice, "Yyyyyeah, suuuure it will. Yeah. That's the ticket." (You 1980's SNL watchers will get that one.)

So let the sanding begin.

I'll keep you posted.

Happy Friday, all!!

:> )