Stella and Gracie are forever immortalized in Country Sampler magazine! YaY!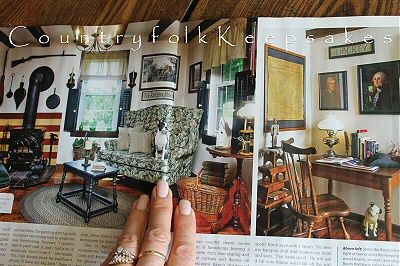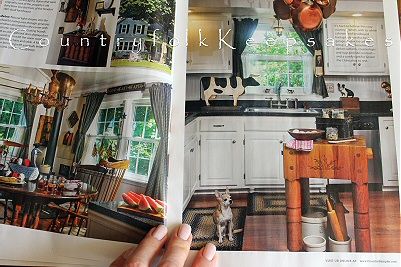 About a year and a half ago the editor of the magazine contacted me stating a staff member saw my blog online and they were interested in featuring the patriotic, ol' Countryfolk homestead in their July 2016 issue.

I must admit I was completely shocked! Our little, humble farmhouse in a national magazine?! Seriously??!!
I was so shocked that after she emailed me I checked to make sure she was legit.
I've lost count of how many emails I've received telling me I've won a foreign "lottery." Heck, I should be rolling in dough by now! ((giggle))

When I spoke with her on the telephone I told her what I did. We both had a good laugh.

So last July, architectural photographers (a sweet husband and wife team) came to photograph our farmhouse. They spent the whole day here.

Truthfully, I didn't want to mention it on my blog or to anyone for that matter, until I saw it in print. Today was the special day it arrived.

So if you're out and about and see this July issue of Country Sampler, thumb through it. There are many more photos along with the fun article.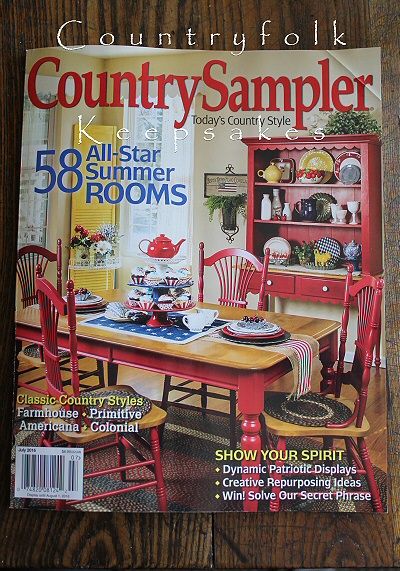 What's even more special to me is although both my parents are no longer with me, today would have been their 59th wedding anniversary. What perfect timing. My mom loved to decorate.

I have a feeling they're both looking down from Heaven, smiling proudly with my mom saying (quite loudly,) "She gets it from me!!!" ((hee-hee))

Happy Wednesday, all. For the second time.


P.S.
Since they photographed our home I completely changed our kitchen, dining room, keeping room and master bedroom. Oh well...
Thanks for that crazy gene, Mom!!

:> )