or is time flying by!!

Man, I can't believe it's June 20th already! Wow!
It's been kind of crazy around here.
My precious Stella had another seizure. Although this one was mild compared to her first one two months ago. I am still determined to find the cause. I'm looking into something called "abdominal epilepsy." I know. It sounds kooky. But from what I've read, it could be a possibility. Intestinal microbial flora can produce seizures.
I'm a firm believer our food is causing us and our pets to have lots of health problems.
So needless to say, I've been extra neurotic worrying about her.
But on a happier note, little Gracie is doing great on her pancreatic enzymes. YaY!

Next... My sweet hubs has had a severe toothache for over a week. This is a man (almost a half a century old) and has had only one cavity in his life. Must be nice.
Me on the other-hand, has had a noggin full of amalgam since childhood. Thank you, Bazooka Joe and Pixy Stix.
So he really had a hard time dealing with the pain. After two visits to our dentist and no relief, he had it extracted today. I tried to talk him into the ol' string and doorknob trick, but he wasn't falling for it. ((giggle))

After his ordeal, I thought I'd bake him some delicious oatmeal, peanut butter chocolate chip cookies! Shhhh... Our dentist doesn't need to know that.
What's even better is they are made with no flour. I was skeptical, but they are really tasty!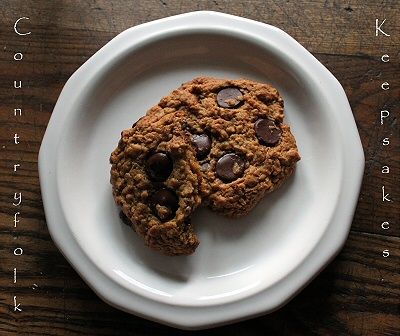 1 stick of softened (room temp) butter
1 C ~ Creamy peanut butter
1/2 C ~ Granulated sugar
1/2 C ~ Dark brown sugar
2 Large Eggs (room temp)
1 tsp ~ Vanilla
3 C ~ Gluten free quick oats
1 1/2 tsp ~ Baking soda
1 C ~ Dark chocolate chips

Preheat oven to 350 degrees.
Mix butter, peanut butter sugar and brown sugar until smooth. Add eggs and vanilla. beat until well combined. Add baking soda and oats, mix on low speed until combined.
Stir in chocolate chips.

Drop by the heaping tablespoon, onto greased or parchment lined baking sheets. Slightly flatten.
Bake 9-12 minutes. (9 worked perfectly for me)
Let cool for 5 minutes on baking sheet before transferring to wire rack to cool completely.

There you have it! Easy and delicious!

I swear I'm going to finish my Americana Firewood Folks this week! Unfortunately I'll only have two to offer for now. BUT I PROMISE I have more in the works.
I just got a little side tracked with a sweet hubs in a lot of pain and my little furbaby.

Okay, back to work!

Happy Monday night, all.

Remember to go outside and take a gander at that beautiful full moon!

:> )