Yep, I'm still trying to figure out how to get the look of copper behind my kitchen wood stove like in the photo below,




without having to spend the big bucks in genuine copper to get the look.

Ooooh I LOVE this antique copper coal scoop. That's the aged/oxidized copper look I'm going for.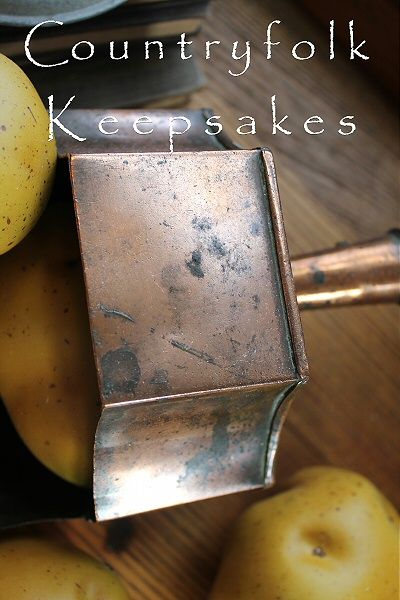 Heck, I would settle for the look of an old copper wash tub, too.




As much as I love patina on copper, I am not a huge fan of verdigris. At least not a lot of it. Yes, our grand Lady Liberty is "patina-ed" from head to toe and don't get me wrong, she looks terrific. All 305 feet of her. I just don't want all green copper in my kitchen.

I have been researching online and found some interesting copper ideas.

One extremely talented gal (who does faux painting) used copper foil on the walls. It looked really nice, too. But I've never foiled anything and am completely unfamiliar with it.

Then I came across paint that actually has copper in it. So it reacts when misted with their green patina solution. But again, I don't want the green look. I want the aged darkened copper look.

They also make regular metallic paint in two copper shades. I might be able to faux paint the look of darker aged copper by stippling and blending different shades of browns into the copper color... Who knows? I'm no stippler either. But maybe I could be. Or how about some kind of glaze to tone down the copper color? Hmmm... That's a thought.

Copper Penny:



Copper:



Antique Copper:



Oxidized Copper:



The company is Modern Masters.

Pretty Handy Gal used the oxidized copper on a piece of sheet metal and did this. It doesn't have as much green. It's more subtle and looks nice.




Since 30 bucks for 16 ounces of paint sounds better to me than big bucks for genuine copper, I think you know which one I'm going to try. ((giggle))

Happy Wednesday, everyone!!
:> )