Well, it's been a few years now.
I decided it time to change the door colors in the kitchen. I painted them all "Awning Red" by Behr.

Don't get me wrong, I absolutely love red and I believe every room in your home should have a touch of red. I'm just going to tone it down.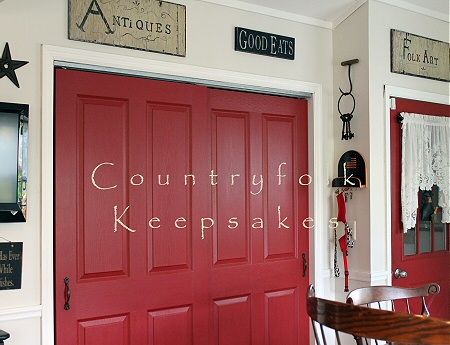 So what does that have to do with my post title?

I decided to go with the color "Revere Pewter." (Get it now??)




I have hung onto my Benjamin Moore paint chip since I redid my kitchen a few years back. I love the color and it looks great with the other colors in the kitchen. But I wasn't ready to go so neutral in color. I'm ready now.

Besides, this old farmhouse is filled with the love of Americana and Founding Fathers. With a paint color called "Revere Pewter" it's a no brainer. ((giggle))

So I'll make a run tomorrow and hopefully start painting this weekend. But I'll be priming those red doors 'til the comes home!

:> )