Lots going on at the ol' Countryfolk homestead with cleaning and baking Christmas cookies.

But I was able to sneak away to a local moving sale and found a few goodies!!!

An old firkin!!!! Woo hoo!!




Man, I love firkins. Not only are the cool looking, they served a purpose back in the day. I remember my mom had an old one. But I'm guessing she sold it at one of the many garage sales she had over the years. This one has seen better days but that is what drew me in. I'll take old and worn over new and pristine any day. Many of you can relate.

THEN I spotted these old wooden shaker boxes!!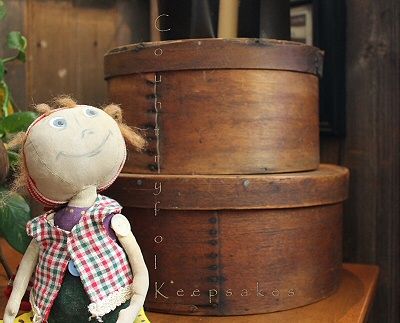 You can only imagine how I held onto all three with a death grip as others at the sale were eyeballing my treasures. As I put them down to pay, I found myself guarding them in a Bruce Lee stance. ((giggle))

So that's it for now.
I've got lots of baking to do today. So back to work!

I hope everyone is enjoying this blessed season and not stressing over things.
Life is too short. Have a Christmas cookie and relax.

Be merry and bright, too.

:> )