Just a few of my favorite things.

First... Vintage Quoizel hurricane lamps. I am totally smitten with them. Especially their subtle lighting. I was blessed to have inherited a few from my aunt and uncle.

I love the floral ones. Deep down I am still girly at heart.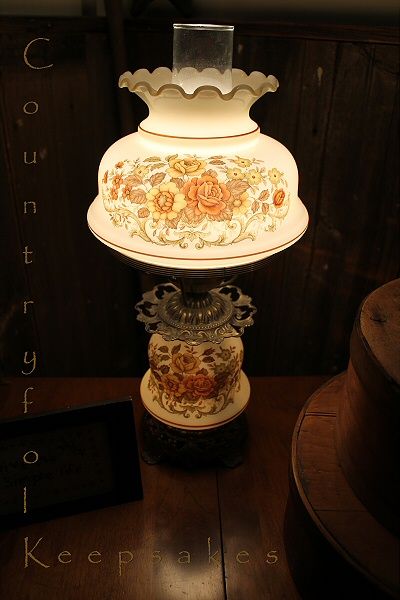 I had a pair of these table lamps. Now I have less than a pair. I knocked one over and broke the glass shade. Ack!!
What I remember most that day was after I knocked it over staring at it in disbelief, my sweet hubs blurted out, "I'm glad it wasn't me!!!" Oh how right he was. ((giggle))




You would think if I was going to knock over a lamp, it would be the floor lamp version. I am known to unintentionally hip check things as I walk throughout this old farmhouse.




Love this sweet patchwork one, too. Makes me smile. Reminds me of Holly Hobbie.

My next mission is to find a small, blue floral one for our living room. There are some out there. But my oh my most I find online are out of my price range.

Found this photo on Google.




This little lamp was my mom's. She always had a flicker bulb in it. So I continue to keep the "flame" going.

Another favorite is copper.

I'm showing this photo of my bicentennial Revere Copperware because I spent 6 hours cleaning and polishing it on Sunday. I am quite proud of the hard work I did and have the sore forearms to prove it. ((giggle))




As I type this late night post, I am chomping on a delicious cinnamon cookie I baked tonight. It's a new recipe I found on Pinterest today. I will share it with you tomorrow!


Happy late night Tuesday!

:> )