It's no secret I'm not a fan of them. Okay, I really despise them. Too harsh? How about I strongly dislike them.

Sure, they serve a purpose. Especially when hiding massive plumbing like in one of our rooms. And boy was I grateful for those tiles last summer when the bathtub pipe blew. Hubs had easy access to replace it. Although I did almost mess my drawers when the saturated ceiling tiles fell to the floor. SPLAT!!

But man, unless you get the fancier high end tiles, they just don't look all that great.
And knowing me, I wasn't about to spend a fortune on ceiling tiles. No siree bob.

Another problem with the room is it's on the north side of the ol' Countryfolk farmhouse. So not only does it have a butt ugly drop ceiling, it has limited sunshine so it's always cold in there. Icky-poo-poo.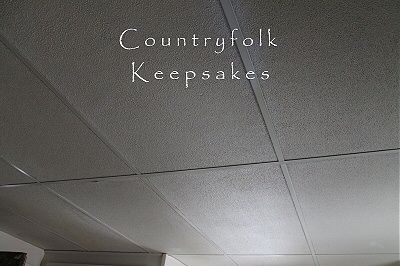 So after 17 years (I still can't believe I waited this long), I decided it was time to give it a facelift. All I needed were a few cans of spray paint and new drop ceiling tiles.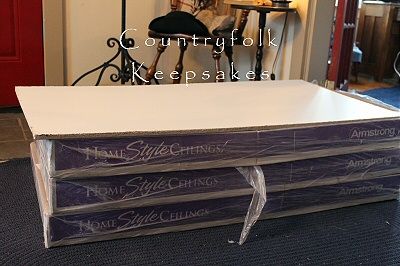 I was giddy when I found they offered a "smooth" surface tile instead of those crinkly ones. Heck, I have enough "crinkles" on my face and knees, I don't need to be seeing them on the ceiling, too.

First I spray painted the metal channels...




Talk about a nightmare. I wrapped my head, face and mouth up tight. Had fans blowing outside and I was still woozy from the fumes.




Then hubs and I removed the old nasty tiles and replaced them with the new ones.
There were dead bugs and petrified critter turds all over those old ones.
Ahhhh... Country living at its best. ((giggle))

Then a few hours later...

Ta-dah!!!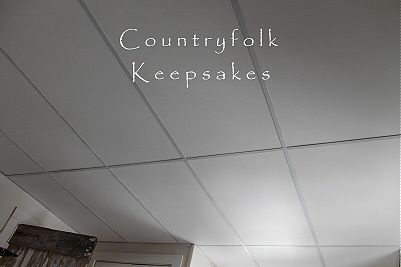 Yeah, I know. Nothing spectacular. But for only 130 bucks total, it works for me!!
Woo hoo!!!!

Oh and I have my Folk Art Polka Dot Hen listed on Early Work Mercantile tonight.
So if you want to scoot on over, click on the link below.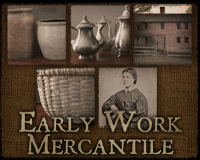 Have a terrific weekend everyone!!

:> )