The porch is completed!! Sure I have a ton work ahead of me BUT the porch is completed!! Yippee!!!
Matthew even made us a lower removable doggy gate (matching the railing) for in front of the stairs so I don't have to worry when our furry girls are out there.

As they were finishing up the last few boards around the skirting I said to them, "I know you're all going to think I'm crazy. But you would make me even happier if you would all sign the last board and date it for me. Then please hammer it on with your signatures facing inward."

I explained this porch is a work of their art and craftsmanship. But more importantly they have added yet another chapter to the history of this lovely old farmhouse. They were thrilled and so was I!!

So here's the before...




Here's the after.
Ta-dah!!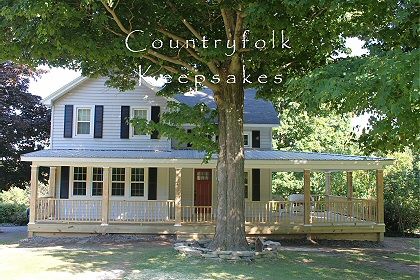 Man, I am going to sleep for a week! Oh wait a minute... I still have to mud the new drywall, repaint the walls and trim, refinish the floorboards, then refinish the den floorboards...

Looks like I won't be sleeping for a week after all.

Oh well.
Happy Tuesday, everyone!!

:> )