Curtains?! Man, I would have nothing on all the windows in this old farmhouse if it wasn't for my husband.

It's the whole privacy issue for him. Which I understand. Lord knows the last thing I want to do is traumatize someone who happened to see me with no makeup on as they drove by.
;> )

I've been struggling with what kind of curtains to have (if any) in my newly painted kitchen. It doesn't help the windows are extremely rectangular. They also look like there are two set of windows side by side. BUT I can only mount a rod across the whole length. Ugh.

Then it dawned on me... Why not have old shutters instead!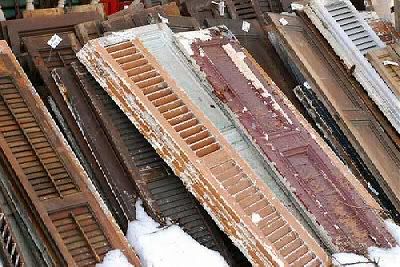 Or I could make my own panel shutters if I put my mind to it. Heck, how hard can that be??

P.S.
I still can't tell you about something I'm waiting on. I have to keep my trap shut until the middle of March. But I'll keep you posted.
:> )