I see your true colors. And that's why I love you.

In 1864, Joseph W. Binney founded the Peekskill Chemical Company in Peekskill, N.Y. This company was responsible for products in the black and red color range, such as lampblack, charcoal and a paint containing red iron oxide which was often used to coat the barns dotting America's rural landscape.

Around 1885, Joseph's son, Edwin Binney, and nephew, C. Harold Smith, formed the partnership of Binney & Smith. The cousins expanded the company's product line to include shoe polish and printing ink. In 1900, the company purchased a stone mill in Easton, PA, and began producing slate pencils for schools. This started Binney's and Smith's research into nontoxic and colorful drawing mediums for kids. They had already invented a new wax crayon used to mark crates and barrels, however, it was loaded with carbon black and too toxic for children. They were confident that the pigment and wax mixing techniques they had developed could be adapted for a variety of safe colors.

Crayola Crayons were invented by the cousins and made their debut in 1903.
(info courtesy of Inventors About.com)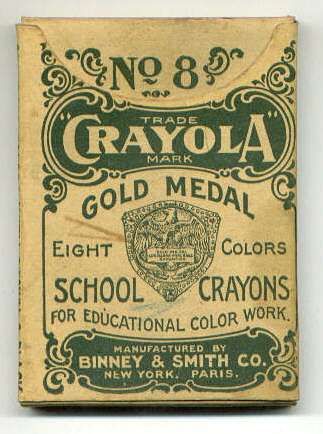 Eight colors: Black, Brown, Orange, Violet, Blue, Green, Red and Yellow.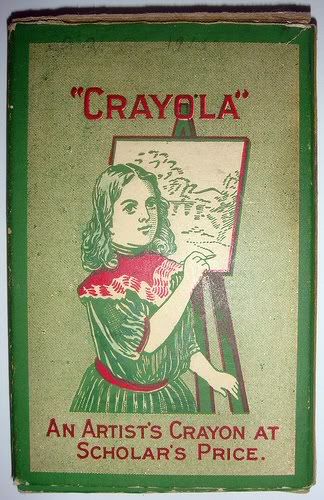 By 1905 the product line had reached 30 colors. In 1958 the number of colors increased to 64.

In '72 the fluorescent crayons were introduced. But I didn't like them at all. You could barely see the colors on paper.

Here's the mother lode of all crayons! Not only did you get tons of colors, you got that really cool built in sharpener in the back.
I can't tell you how many times I went crying to my mama because I accidentally broke off a crayon in there. But she always managed to come through for me and dig it out. Only to have me come back to her with the same dilemma 3 minutes later.
:> )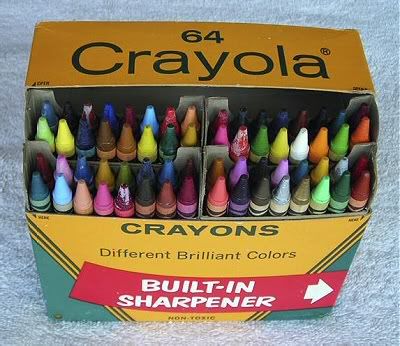 Makes you want to grab a box of crayons and a coloring book, doesn't it?

Go for it!

You're never too old to color.
♥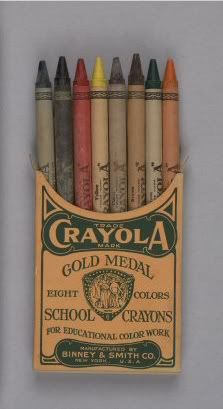 Have a great weekend all!
:> )