I don't care." I utter those words quite frequently to my husband. Heck, "impractical" is my middle name.

Is it just me, or does anyone else have impractical furniture they can't part with?
I spent this entire day trying to rearrange some furniture because it has to be done by the weekend. Since I can't bring myself to sell any of my favorite impractical pieces, I keep moving them from room to room.

The particular piece I'm talking about today is my wonderful old church pew. I've had it in every room in this old farmhouse with the exception of the bathroom. (Don't think I wouldn't have tried it in there either if I knew it would fit!)
Yes, I have officially turned into my mama. Sigh.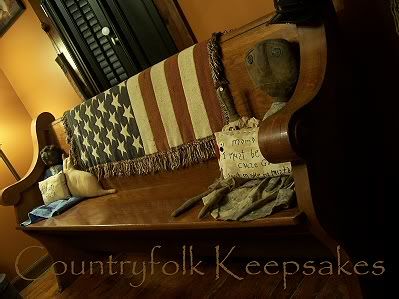 Sure it's extra seating but most of you know how uncomfortable a church pew is. If my choice is to sit on a big ol' fluffy La-Z-Boy or a vintage, hard oak church pew... I know which one I'm going to plant my butt in when American Pickers is on.

So I moved it into my dining room and I'm pleased with how it looks in there.

But it came with consequences. In the process of moving stuff around I managed to knock over and break not one but TWO vintage glass lamp shades. :> (
Each time my hubs heard the shattered glass, he piped up and said from a distance, "I'm glad I didn't do that!"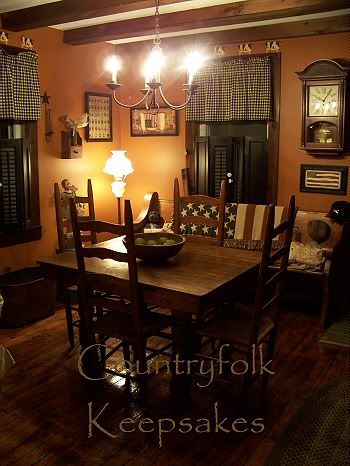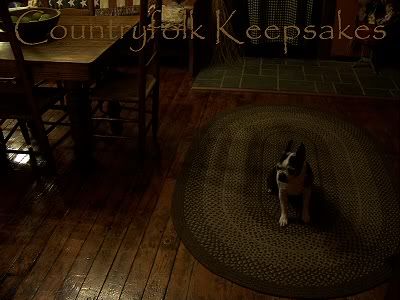 She wasn't too thrilled when I broke those shades either but she gave me two paws up with church pew approval.

:> )