As a child I looked forward to Easter. Sure the Easter basket filled with candy was awesome! But I really looked forward to the pretty corsage my daddy got for my mama, my sister and I to wear for Easter Sunday mass. Mine would have a pretty flower with ribbon and one of those wee fuzzy chicks.
Remember?

I never went to church without my little white, patent leather purse. In it I carried my gloves, my tiny Bible and Rosary Beads.
On Easter Sunday, I also tucked in a few jelly beans but mama didn't know about that.
;> )

Coming from a strong Polish upbringing a special treat on Easter Sunday was the Baranek Wielkanocny or Butter Lamb. Along with a big Polish feast, the lil' guy was always on the table.

There are so many ways a butter lamb is made. Here are just a few examples.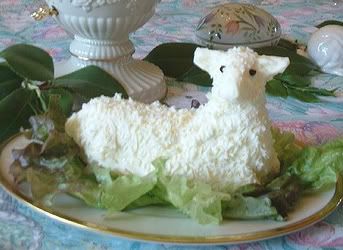 Want to make your own Butter Lamb?

Click here to go directly to A Taste of Home link for directions.

You don't have to be Polish to make one.
But I'll guarantee you'll dance the polka when you're done. ((giggle))

:> )