HAHAHAHA!!

Come join me on the Crazy Train, won't you??

Yes, I'm at it again.
No, I don't plan on biting the head off of anything. I'm just deciding what to do with another crazy thought I have in my noggin.

I've been racking my brain trying to figure out what to do with the fire-proof board behind our kitchen wood stove. (It has a gap between it and the wall)
I have painted it every color under the sun. I've even faux painted it to look like bricks. But trust me when I tell you, my faux painting brick skills are something to be desired. It looked like I painted it blindfolded... with my feet. I've also tried that wood grain tool. Don't ask. It had to go.

Here's how it looks now.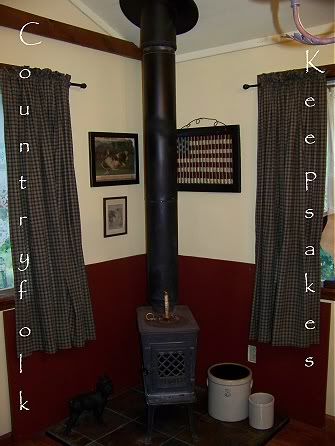 This red matches the red I used when I painted my 1776 American Flag peninsula. I also used this red to paint the back door and closet doors in the kitchen.

Sure it coordinates nicely with the rest of my kitchen, but I find it extremely B-O-R-I-N-G. I wanted to jazz it up, like with some awesome bead board. But since it serves a huge purpose (like keeping our home from going up in flames) It can't be covered with anything. D*mn you practical fire-proof board!! You know I'm impractical when it comes to home decor!!

So now what? Does anyone out there in blog-land have any suggestions? I really need to get this Ozzy song out of my head.

Thanks in advance. Oh... and my hubs thanks you in advance too.
I am driving him crazy also.

I'm goin' off the rails on a crazy train.
Weeeeeeeeeeeeeeeeee!!!!

:> )