After a rough day yesterday, I've got more "good" news. Turns out percolated coffee could be worse for me than filtered coffee. Huh???
Of course I've been drinking percolated coffee for years, so it figures.

As always, I can thank my wonderful hubs for this lovely lil' tidbit of coffee info.
Studies show unfiltered coffee could raise LDL cholesterol levels because of the oil in the coffee beans or some kind of cr*p like that. As I mentioned previously, all I hear is Mrs. Donovan, (Charlie Brown's teacher) when he's telling me something I don't want to hear. "Wah, wah, wah, wah, wah wah..."

Man, I wish he'd focus his OCD on say "handyman jobs his wife needs done around the house" instead of focusing it on medical/health issues and research. Only in my dreams...

Seems like everything in life now can kill us. The next thing you know we'll read adorable puppies and fluffy kittens could possibly kill us in our sleep.

So now I have to ditch the stove top percolator and use something else. Ugh.
But what? We've used auto drip coffeemakers in the past. Even though our water is perfect, it is hard. If you don't have hard water, you may not know that over time, hard water destroys auto drip coffeemakers. It got to the point where we were buying a new one every month. So that's not doable.

Which leads me to finding my inner geek. I remembered my mama giving me a strange looking, little vintage "coffeemaker" when we first moved here. She mentioned it would be great to use if we ever lost power but still needed that cup of Joe in the morning. She knows how I am without my morning coffee. (cue the Psycho movie shower scene music)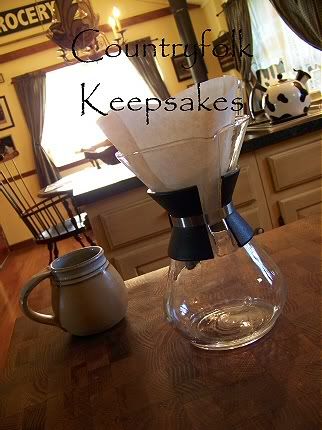 I dug around in the cupboard and there it was. I believe it's a vintage Chemex Coffeemaker. It was designed by German scientist Peter J. Schlumbohm, Ph.D. in 1941, which is why it kind of looks like a prop from an old sci-fi/Frankenstein movie. From what I've read, they are still making them in the same design.

So I gave it the old college try and... it's okay. Truthfully, I prefer my LDL cholesterol making perked coffee. But my arteries will thank me in the long run.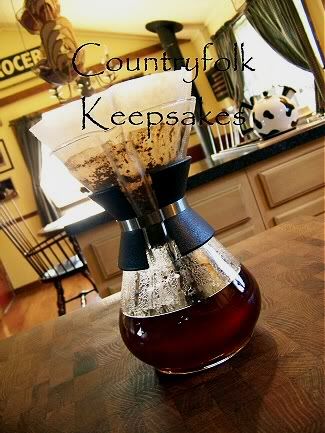 I'm sure there is some kind of specific "scientific way" to use this contraption, but hey this thing is old and has no directions. Similar to myself. So I'll just wing it for now.

Happy Monday, everyone!
Wishing you a terrific week!

:> )