First, let me say "Thank You" to everyone who posted and sent emails of thoughts and prayers for her. You have no idea how much it means to me. ♥

It's been 48 hours and Darla has been seizure free. Thank the Lord!

Yesterday, we were devastated because she wasn't recognizing my hubs. She kept running away from him. He felt absolutely horrible but tried not to show it. I felt so bad. :> (
She was a little unsure of Gracie too. Kept sniffing her butt.

But today, she's been teasing her sister with a toy while barking an inch away from her face (her favorite thing to do) and when hubs came home from work she went running to the door to greet him. All good signs. :> )

I'm slowly introducing the new food, which she is thoroughly enjoying. Although I am cutting back on her portion size to make sure it doesn't send her into another seizure. I'll add a little more tomorrow. Also, this home cooked food is very rich so I don't want "fireworks" coming out of her rear.

So for now, she is stable. Me not so much, but I'm working on it. ;> )

Thanks again for your comforting comments and please keep praying for my furbaby.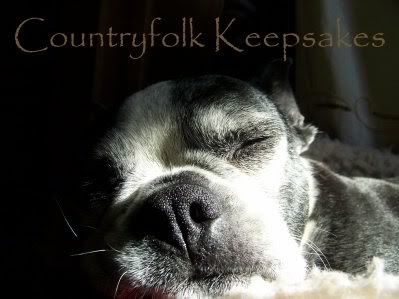 Darla sends her love.
♥