As I was outside feeding the birds, I heard a faint sound far away in the distance. I shrugged it off thinking I was hearing things!

But the "sound" kept getting closer and closer. Louder and louder.
Could it be???!!! Heck no!! It can't be!!! We live way out in the sticks on a country road, it's not possible!!

Then it got so loud I could have sworn it was coming from the trail behind our home! I ran out into the road to make sure my ears weren't deceiving me.
THEY WEREN'T!!!!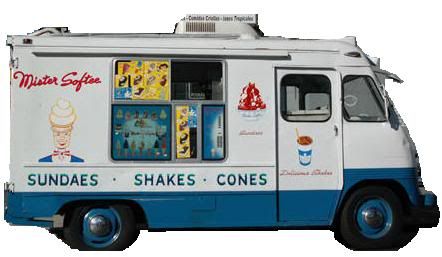 It was a Mr. Softee ice cream truck!! Out here in the country!! I haven't heard that music in over 12 years!!
I was giddy with excitement!! But unfortunately a half hour prior, I had a giant bowl of ice cream. So I just waved "hello" to the gal driver as she drove by.

After seeing that, I smiled all day knowing little (and big) country kids could experience the fun of an ice cream truck.

I remember when we moved here. I joked how our precious Hannah would sit and look out the window with 75 cents on the window sill waiting for Mr. Softee to drive by to get a Nutty Buddy. But he never drove by.




If she was still here with us, I would have treated her to one.
♥

So maybe my use of the word "miracle" was a little strong.
Nah!!
((giggle))


Happy Sunday!