Since early Sunday morning my sweet Darla has been having bad seizures. Very bad. Back in January I had thought she was having "seizures," but the fact was she was experiencing and imbalance due to an inner ear infection. These new seizures are like grand mals.

These past few days have been horrendous. I have witnessed my best friend gurgle, salivate, thrash and contort herself and she has no idea what's happening. The helplessness I feel is unbearable. I can't make it all go away. Mamas (even to furbabies) are supposed to do that. I can only try and cushion the blows and softly talk to her to bring her back to me. When she does come back, is she still the same precious Darla? Or am I slowly losing pieces of her? I don't know the answer to that. She does know something very frightening just happened. I can see it in her eyes.
Unfortunately many of you know my experience and my heart breaks for you. I wouldn't wish dealing with this on anyone.

Back in March her liver enzymes were slightly elevated. But she showed no symptoms of liver failure or liver problems. Even for an old timer, she has a healthy appetite, is energetic and plays and poops like nobody's business.

Then those nasty seizures started. We took her to the vet yesterday to recheck her blood work and have a sonogram to check for tumors. Thankfully, he saw no tumors on her liver and her blood work was normal except for the elevated liver enzymes again. Although the levels were the same as March's.

The vet gave us seizure medication (Zonisamide) and Denamarin a liver supplement. We thought long and hard about seizure medication. We both struggled about giving it to her. After reading online all the horrible stories about Boston Terriers on seizure medication, we are opting not to give it to her. For every 1 Boston it helped, 10 Bostons seizures got worse. No thank you. We'll pass. I don't mind giving her the supplement. I am a holistic kind of gal. But when she runs out of this, I'll buy the supplements separately myself. (They charged us $137.00 for that supplement.)

I also noticed when she had a really bad seizure it was about an hour and a half after she ate. Just that alone makes us believe it's her liver and is unable to remove the toxins fast enough thus sending her into a seizure. I searched online for homemade dog food recipes for liver disease and found this one. Thankfully, I had a few of the ingredients in the frig, so I thought I would give it a try. I cooked it up and gave her a little before bedtime. Thank the Lord above she was seizure free last night. This morning, I gave her a little more and again thank the Lord, so far so good. My sweet hubs is going to stop at the grocery store and pick up the rest of what I need.

So we will try to help heal her liver through diet, (smaller portions too), supplements and love. She and I will continue to sleep on the couch with lots of pillows on the floor just in case. Will she be cured? No, but she will be comfortable. We can't rule out a brain tumor either. But we're not ready to say good bye yet and truthfully, I can tell she's not ready either. The time will come when we'll need to make that horrible decision. When that time does come, the guilt will always be there but there will be peace knowing we've done all that we could to help her.

Hopefully I will be able to get some much needed sleep and some food in my stomach. But I am a wreck. Which is why I'm rambling.
Haven't had much of an appetite. Maybe I should try Darla's new concoction? I could also use some soothing tea bags for these cried out eyes of mine. I'm afraid to look in the mirror.

To those who pray, please do for Darla. To those who send positive thoughts, please do for Darla. She really, really needs them all.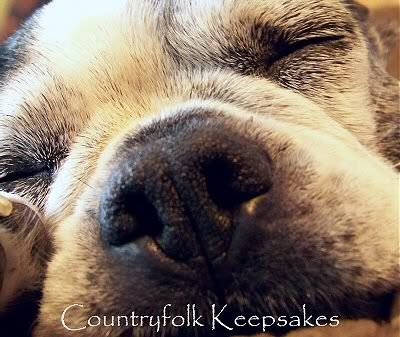 ♥