Zucchini muffins??!!!

You thought I was going to say "football", didn't you? Nope.
If it's a choice between a pigskin and a sweet treat with cream cheese frosting, I'm going for the latter. Although a pigskin covered in cream cheese frosting does sounds enticing. ((giggle))

Here's a terrific recipe for Zucchini Muffins.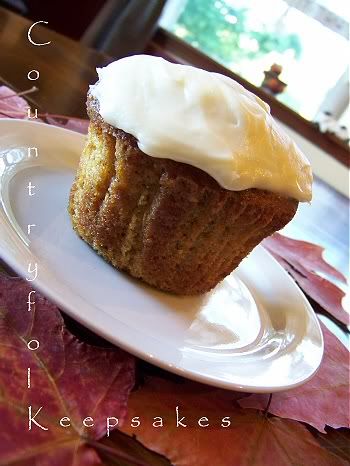 Ingreds.
3 1/4 C~ All purpose flour
1 1/2 tsp~Salt
1 tsp~Ground nutmeg
2 tsp~Baking soda
1 tsp~Ground cinnamon
3 C~Sugar
1 C~Vegetable oil
4~Eggs (beaten)
1/3 C~Water
2 C~Grated zucchini
1 tsp~Lemon juice
1 C~ Chopped walnuts or pecans (optional)

Preheat oven 350 degrees. In large bowl combine, flour, salt, nutmeg, baking soda, cinnamon and sugar. Set aside.
In separate bowl combine oil, eggs, water, zucchini and lemon juice.
Mix wet ingreds into dry. Fold in nuts.
Place muffins liners in muffin tin. Fill almost to the top.
Bake 30-35 minutes or until toothpick tester comes out clean. (Mine came out perfect at 35 minutes)
Makes 12 muffins.

Cream Cheese Frosting

1/2 C~Softened butter
8 oz~ Softened cream cheese
2-3 C~Confectioners' sugar
1 tsp~Vanilla

Mix all ingreds together until smooth. Slather on and dig in!!

Happy Sunday!!
:> )