and my precious Darla has been seizure free.
:> )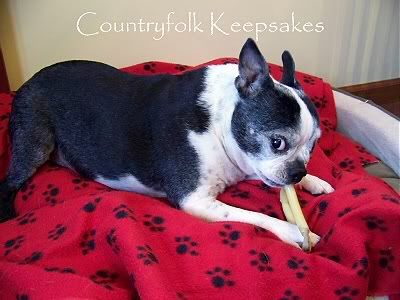 Her new diet, feeding her 5 small meals a day, along with the supplement has helped her tremendously. Those beautiful, brown buggy eyes seem more alert now. I highly recommend that recipe if you have a dog with an ailing liver.

We'll have her liver enzymes checked again in another few weeks to see if she is healing.

I think we will "graduate" and head back to sleeping with the rest of the family tonight, instead of sleeping on the couch. I know my back will be forever grateful. I'm walking around like Quasimodo looking for a bell to ring.

So starting today, I will try to get back to some normalcy. Creating, redecorating and smiling again. The brick wall I had planned for the kitchen will be put on hold for now. Maybe next year. I had to prioritize my "mad money." Our furry family will always come first.
Maybe our vet will add a nice brick wall to his kitchen. ;> )

Happy Wednesday, everyone!!