As my hubs and I mourn the loss of Darla, the one who's struggling most is our Gracie.

Her big sister is gone and she doesn't know where she is. She's wandering and sniffing aimlessly around the house, jumping at every sound and staring at the door... waiting. When she does finally lay down, she just looks off in a distance. Such sadness in her little face.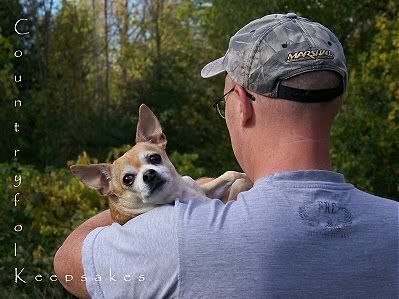 It breaks my heart knowing she doesn't understand what has happened. She just knows she's alone and has lost her place in the "pack".

Sunday I went to the pet store to buy her some new toys. She will play for a few minutes then she loses interest.

We've tried taking her for a drive but we never got her acclimated to car travel (Darla always got car sick), so it's not a pleasant experience for any of us.

We have found one thing that gets her mind off everything and that is taking her down on the trail. But I'm very hesitant. Worried about coy-dogs, foxes and hawks. But it's a new experience for her and we actually see excitement in her when we ask "Do you want to go for walk?"

Look real close, you'll see her lil' self on the heels of my hubs as they jog.




Since the day my hubs brought her home, she's always been his dog. They have that special bond Darla and I had. I can only hope Gracie will share that bond with me too.