We expected the worst and hoped (and prayed) for the best.

Thank the Lord above, I am so grateful!!

We lost power around 7pm. We totally expected it and sure enough *poof* we were in the dark. The winds were strong and it rained pretty good, but this old 160 year old farmhouse is one tough cookie.

On the other hand, Gracie our Chihuahua didn't handle things so well. Before the storm even blew through, she started acting extremely bizarre. She literally walked along the sides of the walls in our home. She wouldn't walk through any room. She just crept along the walls. Then she'd stop and stare off. She was freaking me right out!

When hubs got home, he decided to take her down on the trail for a quick walk before the sh*t hit the fan. He said on the way back she literally took off ahead of him,
like a bat out of h*ll. Then she would stop, look back at him and wait
for him to catch up to her. Then she'd take off again and do the same thing
until they got home. He said it was as if she was trying to get him to hurry and follow her to get back home.
She was like a microscopic Lassie. All you old timers like me know about my Lassie reference. ((giggle))

Here she is this morning in her dog bed. Completely tuckered out from yesterday's excitement.
This is her "mummy paws" pose.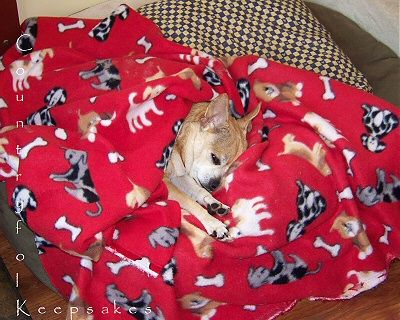 They say animals are very in tune to weather. She definitely was!
Oh and we found out she's afraid of flashlights. Not the flashlights
themselves, oh no. That would make too much sense. She's afraid of the light they emit. She is such an odd little dog. Which is why she fits in perfectly around here. ;> )

We're still under a high wind warning until later today. But we're pretty much in the clear. Others were not so lucky. Please keep them in your prayers and thoughts.

Happy Tuesday!
:> )