Boy!!! I didn't realize how hard it was to hack into a computer with tiny puppy paws. Wish I had fingers.

Hi! I'm Stella. I got wind I'm heading to my new home in about a week. Some crazy blonde lady who owns this blog and a smart guy with glasses and a goatee are going to be my new human mommy and daddy. I kind of remember them when they came to pick me out. The crazy blonde lady wouldn't let go of me and kept asking me if I wanted to live in the country with them. I also remember she smelled like perfume and cookies. (Not a bad combo.)
I nibbled on the goatee guy's hand and tugged on his sleeve just to show him I may be petite, but I'm still tough!

Here's one of my latest photos taken this afternoon by the breeder lady.
Look how cute I am!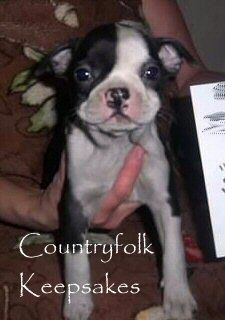 So anyway, I was told I'll have an older sister too. But she's not a Boston Terrier like me. Nope. She's a cha-wa-wa. Hmmm. I'm not sure what that is or how to spell it. Hope she won't mind me chewing on her face and stealing her toys. (I do that now with my brothers and sisters)

I'm really excited about my new family and living out in the country with them. Although I'm not sure what to expect, seeing I've only been on the planet for 7 weeks.

Here I am again!
Don't laugh. You'd make that face too if someone had their fingers on ya like that.





Uh-oh... I hear someone coming. I'd better get off this thing before the jig is up. I plan on either having a blog or a Facebook page. I haven't decided yet. I thought about Twitter, but that's for the "birds." (Get it?? I slay me!)
Besides, I have a lot to say and 140 characters or less isn't going to cut it!

See ya!!!