How did I go from sketching out a Countryfolk Keepsakes rooster at my kitchen table to taking apart a daybed and dragging it into my keeping room?
Like I typed... I am riddled with A.D.D.


But hear me out. I have been trying to make our small keeping room more comfortable. I love the room because it has a cozy wood stove in it. But hate it because there are three doorways on three walls and the fourth wall has a wood stove. So to set up furniture is next to impossible.
It looked great as a dining room, but it was useless. We never used it.
Back in the 1800's when this old farmhouse was built, I'm sure they didn't think, "How am I going to decorate this small room?"
I know! The nerve!


So, I thought about buying a loveseat for the room. But a loveseat is just about the size of a daybed. Which leads me to why I dragged the daybed from one room to another.

I bought the daybed two years ago and it basically has turned into a gigantic dog bed for Gracie.
Sorry, Gracie. Not anymore.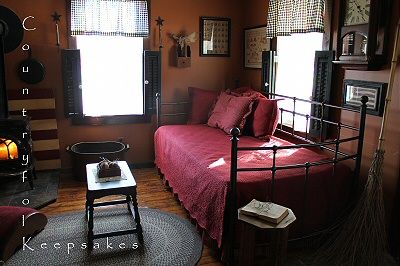 Now, I've got to paint the walls. Yet again.
I've painted this room 5 times in 12 years.
I want to go light to make the room appear larger. Like "Parchment" by Behr. It's an appropriate color since our Founding Fathers portraits are hanging on the walls.
But then again, I do love Benjamin Moore's "Swiss Coffee." Decisions. Decisions.

I also want to get new daybed bedding but man, there's not much of a choice as far as my taste goes. I would love a postage stamp quilt style but there is nothing like that out there.
I found this set I really like on the Bed Bath and Beyond website. But the colors are all wrong.
Sigh.
Maybe I need to drive over to the store and see it in person.




There are some pretty white daybed sets BUT:
2 dogs + 1 wood stove + anything white = NEVER

When my hubs came home yesterday and saw what I had done, he uttered his usual three words, "YOU ARE CRAZY!" I can't help but smile.
When I was little, I can remember my Daddy uttering those exact words to my Mama when he'd come home from work and she had changed rooms around or knocked down a wall. The apple doesn't fall far from the tree.
Ya gotta love genetics!!


Feel free to throw in your two cents about paint color or bedding choices. I'm always open to suggestions.
Except from my husband. ((giggle))


Oh and I'll also need to make new curtains... have the glider cushions reupholstered... Get a new braided rug...

Ummm. Does anyone have some "Money Tree" seeds I can plant????

Happy Wednesday!!

:> )