I want to replace the small black console table I have in my kitchen with a *Drum roll please...
dry sink! Not only do I love the look, I also love the idea of extra cupboard space.

Most of you know I'm an insane "Craigslist Junkie." I have gotten the most awesome deals on there!
But man, I was surprised to see how hard it is to find a dry sink in these parts.
Well... At least one I can afford. I've mentioned many times in the past I'm rather cheap *cough* frugal with my earned money. Growing up, my Daddy taught me the importance of not blowing my cash on frivolous stuff and how I needed to save for a rainy day. Unfortunately, at the time I believed the sun was always shining so I didn't listen to him. But as I matured, I understood what he tried to teach me.

Even in this day and age of instant gratification and everyone "deserves" everything, I do understand and accept (wrinkling my nose) the fact that the $16,000.00 antique dry sink I want is out of my price range. Hey, you can't have everything.
BUT the vintage 60's or 70's colonial reproduction (for under 150 bucks) dry sink is! So that's what I'm searching for! YaY!

But here are some examples of (out of my price range) pretties. I'll just sit back with my drool bib on and enjoy...




RED!! Be still my heart!!




Anyone got $16,000.00 I can "borrow????"





Love this gal's dry sink too!!! Check out the rest of her beautiful home!




Okay. Back to reality...
I did find this one that is somewhat local. It's about 50 minutes away and in my price range. So I plan to take a mosey out and have a lookie-loo.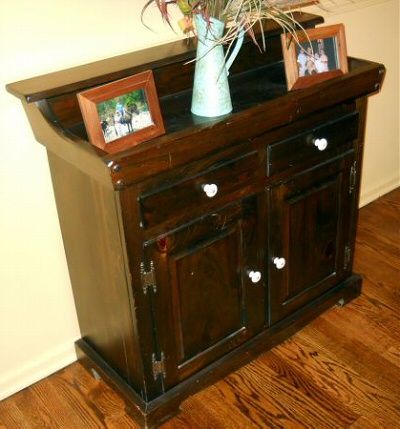 She definitely has that 70's dark stained pine vibe. But with a little work, I can give her the new look she "deserves."

See... even furniture "deserves" things now!!
((giggle))

I'll keep you posted.

Happy Sunday!!


P.S.

Couldn't resist snapping this pic of Stella sleeping on my lap as I typed this post.

She's such an angel when she sleeps.
But when she's awake... pea soup should come shooting out of her mouth!

:> )