I found the perfect ecru and black ticking homespun to make new valances for our keeping room!!

YaY!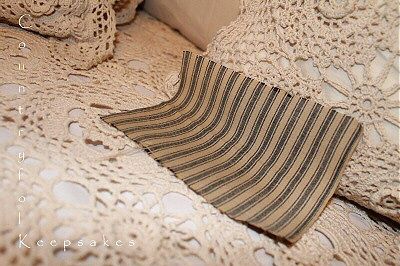 If you're looking for awesome fabrics you must check out Kittredge Mercantile.
It's homespun heaven!

Since I wasn't quite sure of the color, Kathy was kind enough to send me a swatch of the fabric. I received it in the mail yesterday and it's exactly what I was looking for!!

I can't wait to get sewing!




Now I will hide in the bushes, impatiently waiting for our mailman to arrive with the box. Then I'll tackle him.

I also have a very handsome rooster I'll be adding to my Countryfolk Keepsakes selling site later this morning.
I need to put a few finishing touches on him and then snap some photos.
So be on the lookout!

Happy Friday, all!!

:> )